Archery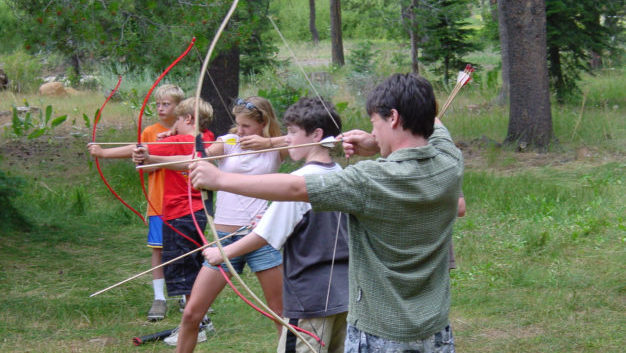 The Rec Hut is closed for the 2017 season; however, those with their own archery equipment may still access the range.
When the Rec Hut is open, archery clinics, lessons and rental equipment are available every summer at Northwoods Clubhouse. A designated archery range is located near the building. Note: Using archery equipment elsewhere in Tahoe Donner is not permitted.
ARCHERY CLINICS - no longer offered for summer 2017
For adults and kids ages 7 and up. Includes a basic safety/skills clinic followed by friendly competition and games. Preregistration and payment is required at least 24 hours in advance; sign up online or call the Rec Hut at 530-582-9646. Subject to cancellation in case of inclement weather.
PRIVATE ARCHERY LESSONS - no longer offered for Summer 2017
For up to three people. Available Monday through Thursday. Lessons must be made 48 hours in advance by calling the recreation supervisor at 530-582-9646. Private lessons will not be held during regular clinic times.
Cost: $30 per hour
ARCHERY EQUIPMENT RENTALS - no longer offered for summer 2017
Rent bows and arrows by the hour. Renters must be 18 years or older. Completion of a safety checklist and waiver are required. Rental not available during clinic times or during private lessons.
Cost: $9 per hour per member; $11 per hour per guest