Best of Tahoe Donner | Holiday Edition
Alder Creek Adventure Center, Association News, Cross Country Ski Area, Downhill Ski Area, The Lodge Restaurant & Pub


Nov 21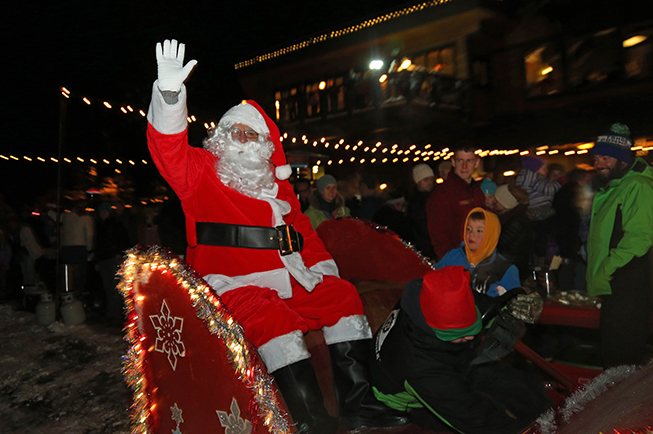 By Joe Lewandowski | Photo: Chris Beck
Whether it's your first time in Tahoe Donner or you've been visiting or living here for years, there's no shortage of fun activities and adventures to enjoy with friends and family, especially around the holidays. Here are some of our local holiday highlights so you can set your seasonal schedule and celebrate in style.
BEST FAMILY CELEBRATION
LIGHT UP THE NIGHT
After you've had a couple days to digest that Thanksgiving feast, bring the entire family for our annual Light Up the Night celebration. Look forward to the tree-lighting ceremony, arts and crafts, visits with Mrs. Claus and Santa, and a raffle with great prizes and proceeds benefiting local nonprofit Project MANA.
When: Saturday, Nov. 25, 5-7PM
Where: The Lodge Restaurant & Pub
Cost: Free! Donate canned food here.
---
BEST ADVENTURE DATE ACTIVITY
FULL MOON SNOWSHOE TOUR
Bring your sweetheart for some holiday romance under the night sky with a full moon snowshoe tour, or moonlit hike if Mother Nature hasn't supplied the snow yet. With experienced guides and sweeping panoramas, it's the perfect way to get your heart racing.
When: Saturday, Dec. 2, 5:30-7:30PM
Where: Alder Creek Adventure Center
Cost: $49 adult, $30 kids 12 + under
---
BEST GIRLS NIGHT OUT
WOMEN'S SHOPPING NIGHT
Bring your girlfriends for an evening of fun and sensational seasonal savings at the Tahoe Donner Cross Country Ski Center. With deals offered on everything – including gear, clothing and drinks at the Trailside Bar – it's the perfectly social way to save.
When: Wednesday, Dec. 13, 5-8PM
Where: Alder Creek Adventure Center
Cost: Free!
---
BEST SANTA EXPERIENCE
CHRISTMAS DAY & SKIING WITH SANTA
Christmas morning just got a little more magical – join Santa for a delicious breakfast, followed by a day of skiing and riding with the big guy once the lifts open. Bring the whole family for this magical day in the winter wonderland of Tahoe Donner.
When: Monday, Dec. 25, 10AM breakfast, 11:30AM skiing
Where: Tahoe Donner Downhill Ski Resort
---
BEST WAY TO RING IN THE NEW YEAR
LIGHT PARADE & FIREWORKS
Ring in the New Year in true Tahoe Donner fashion with our annual Light Parade down the mountain! Intermediate or better skiers and riders age 10 and older are invited to join the parade, and everyone will enjoy music, snacks and a spectacular fireworks show. Signups begin at 4:30, so come early to save your spot
in the parade – or snag a great seat.
When: Sunday, Dec. 31, 6:15PM
Where: Tahoe Donner Downhill Ski Resort
Cost: Free!
---
BEST CHAMPAGNE TOAST
NEW YEAR'S EVE AT THE LODGE RESTAURANT & PUB
Celebrate New Year's Eve in style with a delicious dinner followed by dancing, a champagne toast and perhaps a kiss. Executive Chef Lew Orlady probably won't pucker up, but he and his team will craft a magical meal to remember. Seating is limited and reservations are required.
When: Sunday, Dec. 31, 5-10PM
Where: The Lodge Restaurant & Pub
Reservations: (530) 587-9455