Annual Dinner & Silent Auction
4th Annual Dinner and Auction
Wednesday, July 11, 2018 | 6PM
Scrumptious food. Convivial camaraderie. Exciting auction items. Informative speaker. Worthy cause.
Where else could you get all that for $100 per person?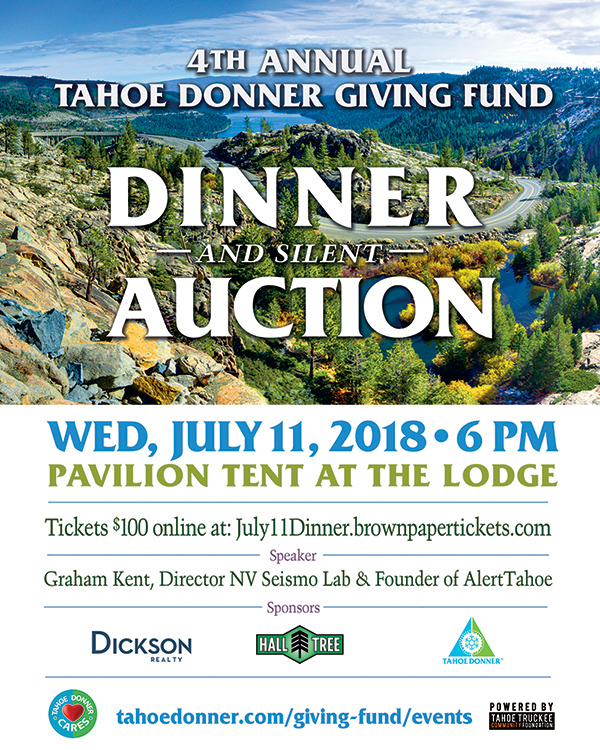 After experimenting with dates at different times during the year and after hearing from some of our part-time neighbors, we have settled on having the dinner during the summer months when the greatest number of second homeowners are here and able to participate. We've also moved to the Pavilion Tent at The Lodge in order to gain a bit more elbow room and to accommodate more members.
The dinner is always a fun event. Reserve a table (10 people) if you wish to enjoy the company of old friends. Purchase individual tickets and make new friends. Either way a delightful time is guaranteed. We'll start you off with champagne and appetizers while you peruse the many enticing silent auction items. Bid early, bid often, there is something for everyone at various price levels.  You won't be disappointed.  A dinner with a summer themed menu and wine on the table will fill your tummy and lighten your mood.
Graham M. Kent, Ph.D. is Director of the Nevada Seismological Laboratory, Professor in the Department of Geological Sciences and Engineering at UNR, and founder of AlertTahoe. BTW, he is Graham to everyone though his degrees and title lend credibility to his endeavors. AlertTahoe is the topic of the evening's presentation. AlertTahoe is a wildfire detection project involving a system of cameras throughout the region. Check out the project in advance here. You can also check out Graham's work here.
A heartfelt thank you to our sponsors, Dickson Realty and Hall Tree Company for supplying the champagne, appetizers and wine for the table. Please see more about them on the Sponsor page. Thank you as well to our Precision Flooring, John Maciejewski (CALNV Realty), Bassett Flooring, and Z Marketplace whose support funds seemingly minor costs associated with the dinner - but, boy, do those costs add up. The sponsors and supporters enable us to put more of the price of the tickets to work for the good of the community.
What does the Giving Fund do with the money raised from the dinner and auction? Why, we give away every dollar earned. Generally speaking, the funds raised from this summer event are distributed in the fall in the form of grants to worthy local non-profits to help them carry on their good work in the community. Since our inauguration in late 2014, we have disbursed over $49,000 in grants. Our other major fund raising occurs in late fall along with the mailing of the annual assessment. Those funds are generally disbursed in the form on scholarships to high school graduates. Thus far we have distributed $31,500 in scholarships.
We need your help to continue this good work. Thank you and we hope you attend.

Updated:  5-25-18