Get to Know Your Current Board Members
Tahoe Donner's board of directors is the governing body of the association and is ultimately responsible for the oversight of the affairs of the organization. Made up of five unpaid volunteers, the directors are elected by the membership and serve three-year terms.
As representatives for the property owners, the directors oversee a $20 million business with real estate values of $3.2 billion. Board members are familiar with and abide by the bylaws, rules and regulations of the governing documents of the association. They participate in annual education and training and are up to date on the laws, including the Davis-Stirling Act, which went into effect in January 2014. Current board members come from a wide variety of backgrounds and represent an impressive range of professional expertise.
But who exactly are the board members? Our board is made up of people just like you. They live in Tahoe Donner either full- or part-time, they visit and enjoy our amenities, and they want only the best for our community as whole. In June 2016, two new board members were elected. Our five board members currently include Steve Miller, Jeff Bonzon, Ron Wulff, Darius Brooks and Jeff Schwerdtfeger.
Jeff Bonzon, President
Jeff Bonzon also brings extensive experience to the board. With 34 years under his belt in finance and corporate banking, including five years on the finance committee, Bonzon is now enjoying his presidency on the board.
"In my time on the board, we have completed the Alder Creek Adventure Center and installed snowmaking equipment at the ski hill," said Bonzon. "I was involved in both of these from the finance committee perspective as they began. The Adventure Center is living up to expectations, and has become a vibrant, well-used component of our amenities package."
Bonzon knows firsthand what it means to be a member of the board. "The board is charged with the responsibility of acting in the best interests of all our members, not just the loudest or the largest groups," he said. "We help set the vision and direction of the association, to ensure that we provide our members with the activities and environment they desire: our full-timers with a comfortable and enjoyable year-round living environment, and our second-home owners with the recreational activities they seek."
Bonzon has had the privilege of being both a full-time and second-homeowner of Tahoe Donner, so he relates easily with both sides of our community. He became a vacation owner with his wife Carolyn in 1991 and they moved here full time in 2004. But even with the permanent move, he still makes time to catch all the Giants games in San Francisco, including all three World Series. Since moving here, Bonzon has enjoyed several amenities Tahoe Donner has to offer, including Tahoe Donner Golf Course, playing bocce ball at Northwoods Clubhouse and dining at The Lodge Restaurant & Pub, where he can't can't get enough of the short ribs.
While enjoying our amenities, Bonzon realized he could be doing more, outside of the finance committee. "I wanted to ensure that we kept strengthening Tahoe Donner Association's financial condition," he explained. "It is a continuous process, but one that is vital to the overall health and growth of our association."
Ron Wulff, Vice President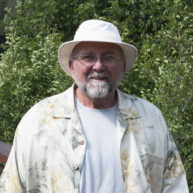 In looking at the overall health and growth of our association, Ron Wulff knew he wanted to join the board. "We thought that there needed to be a change in 2001, which was when I first ran for the board," said Wulff, who is the current director and in his fifth non-consecutive, two-year terms and three-year terms.
Since getting more involved with Tahoe Donner, Wulff has had a hand in many decisions made, including the purchase of land parcels in Euer Valley, the expansion of Trout Creek Recreation Center and the construction and expansion of The Lodge Restaurant & Pub.
He first moved to Tahoe Donner with his family in 1992 and has since enjoyed several amenities at Tahoe Donner; you are most likely to bump into him at his favorite spot, the Beach Club Marina. "We are down there almost every week to BBQ with a group of friends," he said.
Steve Miller, Treasurer
Steve Miller raised his son in Tahoe Donner and has been living here for 14 years, enjoying all Tahoe Donner has to offer. He loves Nordic skiing and racing competitively, hiking and biking on our vast trail system and sampling the latest pasta special at The Lodge Restaurant & Pub.
As a board member, Miller brings 35 years of experience in finance to the team that primarily includes portfolio management for stocks and analyzing companies and their investments. His vast knowledge of finances and management makes him an asset to the team; he has been on the board now for over four years with more than a year left in his term. During his tenure, Miller has had a hand in many projects, including the acquisition of Euer Valley, the Trails Master Plan, and construction of the new Alder Creek Adventure Center. The center itself is one of his proudest achievements because it doesn't just benefit members—it benefits the entire community.
"We support our community and are showing by example that we really care about them by giving them a first class facility," said Miller, who noted now the high school Nordic team has a world class facility they can use for training. "And I want to make sure Tahoe Donner stays part of the community. Not only do we make Tahoe Donner better because of what we do, but we make Truckee better for what we do."
Making Tahoe Donner better is the main reason he decided to join the board. "I wanted to become more involved in helping Tahoe Donner realize its vision of being a mountain community," he said, adding that he never wants to see Tahoe Donner become a gated community, boarded off from the public.
"I love what Tahoe Donner has to offer," added Miller. "I love the way Tahoe Donner is managed… and I believe if we continue to work hard to improve the assets that we have we can be held as an example of the best things a homeowners association can be and that's what I am trying to achieve."
Jeff Schwerdtfeger, Secretary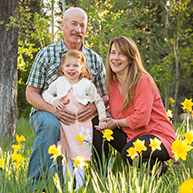 Schwerdtfeger has been living in Tahoe Donner full time for over three years with his wife Jules and 3-year-old daughter, Ella. He has two older grown sons, Jeff and Linsey, and also became a grandfather last year when Linsey and his wife welcomed their new daughter into the family. Self-described as a dedicated family man who enjoys Tahoe Donner amenities with his family as well as dining at The Lodge Restaurant & Pub every week, Schwerdtfeger originally moved to Tahoe Donner to enjoy retirement. "We went on an extensive search for the right place to retire," explained Schwerdtfeger. "After searching, my wife and I felt at home here in Tahoe Donner. The Town of Truckee, the Tahoe Donner amenities and all the area has to offer is perfect for my family."
Originally from Santa Cruz, Calif., Schwerdtfeger was raised in both Santa Cruz and North Lake Tahoe. While in Tahoe, his love of the Sierra Nevada mountains grew from a young age and this is also when he learned to ski, which is still one of his favorite pastimes today. In fact, for the past two winter seasons, Schwerdtfeger has worked as a professional ski patroller in avalanche control at Sugar Bowl Mountain Resort. This position comes naturally to Schwerdtfeger, who has 34 years of fire service under his belt, last acting as captain/paramedic/special operations task force coordinator for Santa Clara County Fire Department and manager for FEMA/California Task Force 3.
Being a public servant for over thirty years is one of the main reasons he had an interest in joining the board. "I feel the need to serve my community and being a board member will allow me to make a positive impact for my fellow Tahoe Donner residents," said Schwerdtfeger. "During my tenure in the fire service, I have had extensive experience with budgeting, grant funding, personnel management, training and negotiating. My skillset is unique, which will bring a fresh perspective to the board of directors."
Schwerdtfeger's perspective includes a desire to enhance communication of board decisions and topics to members in order to garner further membership involvement. "There are several areas that I feel need improvement. First and foremost, the board of directors needs to be transparent and keep the HOA membership informed on large financial expenditures," he explained. "We need to improve public safety here in Tahoe Donner. We need to work with local agencies to improve response times and ensure the health and safety of our community."
Darius Brooks, Director
Originally from Telluride, Colo. and later moving to California, Brooks is an avid outdoorsman who enjoys camping, fishing, hunting, biking and skiing. He first discovered Tahoe Donner back in the '90s and became a frequent visitor, often sharing ski leases with friends. As an avid skier, Brooks competed at the national and international level on the U.S. Junior Freestyle Ski team for about a decade. In 2013, he and his wife decided Tahoe Donner would be their second home away from home for themselves and their three children, so they purchased a home and Tahoe Donner became a frequent retreat for them year round. They even have a family tradition of enjoying Pizza on the Hill and a movie every Friday night they are in town. "Tahoe Donner is our escape from city living and the fast pace of San Francisco," said Brooks. "My wife and I both grew up enjoying rural settings during much of our childhood. I was raised in the small ski town…exploring some of the most beautiful and scenic mountains as my own backyard. My wife grew up on the outskirts of San Diego but would spend summers on their family farm in Sweden. So Tahoe Donner allows us to pass along just a bit of our love for the outdoors to our own kids."
Brooks' family and love of outdoors were a few of his motivations behind deciding to run for board. "I remember reading an article a while back which suggested that nearly 80 percent of owners in Tahoe Donner have kids under age 18. So fostering an HOA and environment which allows parents and kids to spend more quality time together enjoying the many amenities is a big priority," he explained, adding, "From the most recent survey of Tahoe Donner owners, it's clear that expanding and enhancing the trail system is a big priority, so I hope to push this initiative as well."
Brooks has a unique perspective when it comes to viewing Tahoe Donner and its potential future growth. While living in Telluride, he watched his town transition from a small mining outpost to a world class resort. "I had the chance to see many things the town either did right or wrong and developed a deep appreciation for taking a long-term view when allowing communities to change and evolve," recalled Brooks. "In Tahoe Donner I see a community now facing many similar questions—largely focused around the importance of defining a long-term vision for the HOA and ensuring the community who calls Tahoe Donner home permanently is able to stay and not be pushed out by ever-increasing fees or cost of living."
Along with this perspective, Brooks also has a background in environmental engineering and focused for several years on cleantech and energy investing. Additionally, he has experience as a private equity investor, has served on multiple corporate boards, and has spent over twenty years in the finance industry. "I have developed deep financial and analytic skills and hope to bring those to the table as Tahoe Donner explores ways to control cost creep while maintaining the high level of service and amenities available to owners."
Ultimately, Brooks noted he feels Tahoe Donner is a well-run homeowners association that is capable of more. "I hope to expand the amount of control the HOA has over many factors that may now be in the hands of city or county politicians who are not accountable to most Tahoe Donner owners, and many of whose viewpoints might differ from Tahoe Donner owners' vested interests," he said. "This was a fundamental position in my campaign position so I hope to push on this front in the years ahead."
Run for the Board
If you'd like to be more involved with Tahoe Donner, consider running for the board. "Get involved!" said Bonzon. "Join one of our clubs and actively participate in its management; attend board meetings; volunteer for one of our committees, a lot of work is done in them, and you'll get to know and understand the operations of the association."
Anyone considering running for the board should keep in mind that decisions made affect the entire community, which needs to be considered and represented at all times.
"Be ready to fully commit to putting in the time and effort into understanding as best you can and putting aside your own personal agenda, and focus on what the needs of our 6,500 unit members are," Miller said. Wulff concurred. "Being on the board is not about having a private agenda," he said. "Keep in mind that you are responsible for all of Tahoe Donner, not just what may interest you," he added.
If you decide to run, former board member Courtney Murrell recommends that you "talk to the various board members and get their perspective on time commitment and the best ways to get involved in the association." She suggests that you ask what board members like and dislike about the board experience. "Good board members stay informed by attending quite a few meetings aside from regular monthly board meetings and are involved in committees," she adds.
The next board of directors' election will take place June 2017. Candidates interested in running for board can pick up applications at Member Services and are due by May 1, 2017. To request an application by email, contact electionscommittee@tahoedonner.com. You may also call 530-587-9431 to request an application by mail.
Lastly, Miller reminds us that "there will always be defenders and know there will always be a middle ground in any expected change or argument that comes up. Be able to listen well." And know that your volunteer time is greatly appreciated.