Tree Removal Permit Program
Tree removal permits required:
Trees larger than 4 inches in diameter measured at 3 feet off the ground, dead or alive.
Dead or broken trees.
No permit needed: Green limbs up to 15 feet off the ground and dead limbs up to 35 feet off the ground If you wish to exceed these limits you must obtain a tree removal permit.
Schedule an appointment at (530) 587-9432 for a staff member to view a tree and mark it for removal. At the time of the inspection, a removal permit will be issued and must be signed by the property owner prior to approval.
For a list of vendors who perform tree and brush removal services, see our Business Directory.
Chipping Program

The chipping program is closed for the 2017-18 winter season. Applications for the chipping program can be made from May through early October (dates subject to change) at One Stop.

Materials to be chipped must be:
Stacked with the cut or large ends facing the street.
In front of your home and stacked on the edge of the road, not on access easements.
Stack loosely, no higher than 4 feet.
Away from snow poles, fire hydrants,
trees, landscaping or structures.
Eligible material:
Brush and tree limbs up to 8 inches in diameter, either green or recently dead
Minimum of 12 inches in length
Maximum 8 feet in length
Non-eligible material:
Old, dead, hard branches with no bark attached
Bark, pine needles and pine cones
Roots or root wads (tree stumps)
Scrap lumber
Lot clearing for construction
Garbage (trash)
Metal or wire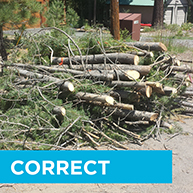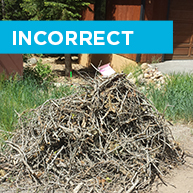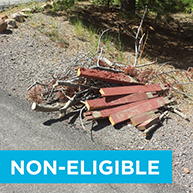 Wood Chips
Wood chips are no longer available for pickup from parking lot #1 (the upper tier of the Downhill Ski Area Parking Lot).