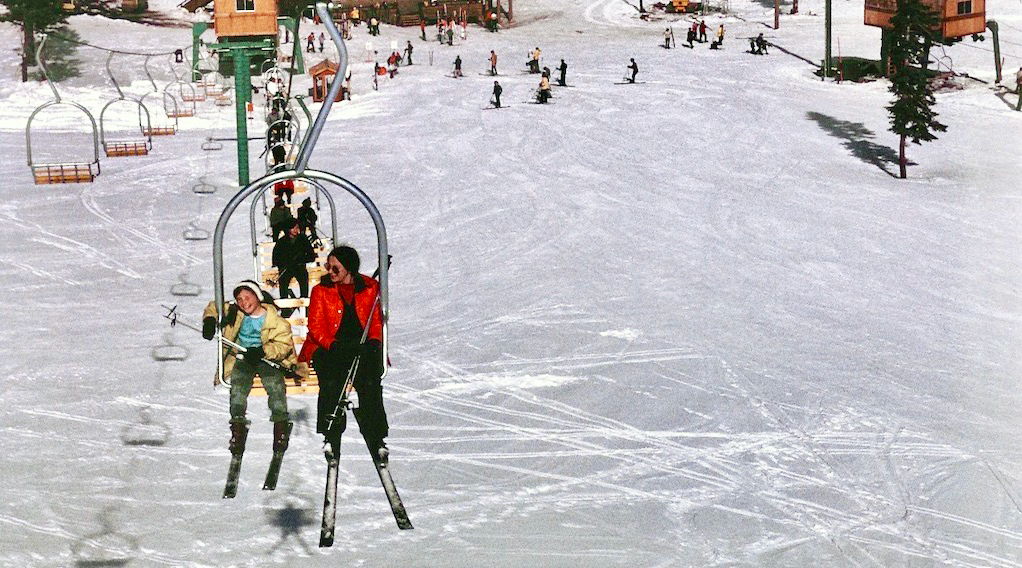 50 Years of Tahoe Donner Ski Memories
Association News
Dec 30
Tahoe Donner is celebrating its 50th anniversary this year! Since 1971, Downhill Ski Resort has provided families the best place to begin their skiing adventures. We asked our members to share their stories of growing up skiing at Tahoe Donner, and their heartwarming stories are sure to make you smile.
---
CYNDI BLICKLE
I was so surprised and excited to again see a photo in the latest issue of the Tahoe Donner News – it's the large photo on the left leading off the article about Tahoe Donner's 50 years of unforgettable ski memories. That same photo was also featured on the cover of Tahoe Donner News celebrating its 30 year anniversary (which we have framed in our TD home), and it's a photo of my husband and brother-in-law taken back in the early 1980s.
My uncle was a real estate salesman for Dart Industries and then Tahoe Donner, and my aunt worked in the administrative office for Tahoe Donner when it was located at the ski hill. We purchased in 1982 as a second homeowner, and our children (and now our grandchildren) always look forward to our trips to Truckee. We have seen tremendous growth throughout the years but still continue to enjoy all the amenities and beauty that is Tahoe Donner.
---
KIM RESNICK
I learned to ski at Tahoe Donner in the late 70s/early 80s! My parents used to rent a house, or we would stay at the base lodge for Christmas and for the February "ski week."
Many years later, I was fortunate and blessed to purchase my own place in Tahoe Donner! My son, Ben, also had the great experience of learning to ski and snowboard at TD. It's so much fun to ride up with him on the lift and tell him about all the crazy fun I had at his age at Tahoe Donner. To be able to experience the same with him is such a treasure.
Thanks, Tahoe Donner, from two generations of skiers. 🙂
---
JEANNIE GAZZANIGA MOLOO
My four siblings and I learned to ski at Tahoe Donner in the 70s, and it was one of the most memorable times of my childhood. In 1972/73, my father joined the Tahoe Donner ski patrol so my parents could afford the opportunity to teach us to ski. We were close in age from 5 to 12 years old, and skiing for a family of seven would cost too much otherwise.
We'd head up from Loomis before the sun came up, bundled in our mismatched ski outfits and leather ski boots. My mom would make egg salad sandwiches and pack local mandarins and Snickers. We'd eat our lunch on the deck in between skiing the "bunny hill" and the mile run. Each time we mastered the "big" hill, we thought we were the next Jean-Claude Killy. Later in the afternoon, the big treat was a hot cocoa from the lodge cafeteria.
We'd ski until the last lift stopped and wait for my dad and the other patrols to clear the hill before we'd head home. To this day, the run Skips Plunge holds special meaning. Skip and my father became good friends patrolling together.
In 2003, my husband and I purchased a home in Tahoe Donner, and we were able to teach our 3 young children and many of their friends to ski. Every time I sit on the deck looking up at the ski hill, I'm thrown back to the 70s, the wonderful childhood memories of my family skiing together and the warmth of that hot cocoa. To this day, there simply isn't a better place in the Tahoe Basin to teach kids to ski!
---
MICHAEL MAHONEY
A little over 50 years ago, my coworker from Kleinfelder Engineers and I met the original project manager From Lakeworld Developers, Ed Pasteres, at Squeeze Inn to prepare to start the Tahoe Donner project.
The Sierra Club had just approved Tahoe Donner, and Lakeworld wanted to show it was underway. We took a snowcat operated by Ed to the approximate site of the Overnight Ski Lodge. We dug some exploratory holes through the snow and photographed the process to show the public that the project had started. I believe Wayne Valley of the Raiders football team was involved.
Ray Murphy Engineers in San Francisco were the original engineers. Later, Cranmer Engineers from Grass Valley took over. We were offered lots at the rate of eight or nine thousand dollars as our payment in the early days. We worked on the project for probably 30 years, searching for water, designing foundations for buildings roads, etc.
We were unable to accept lots for our fee, but in 1990, my wife and I purchased a house on Swiss Lane and have loved TD ever since.
---
JENNIFER LANIER
I can't really put into words specific memories of learning to ski at Tahoe Donner. The memories aren't specific to skiing or learning to ski but more of the welcoming, homey and family feeling that I had.
Missy and Kio Ouchida were our neighbors in San Jose, and they introduced us to Tahoe Donner because a relative had a house there. There were six kids in my family, and Rick was their only child. They welcomed the whole gang of us up and took us to Tahoe Donner, which was affordable and the perfect place to learn to ski.
My parents ended up buying a lot and building a house the next year. A couple years later, Missy and Kio and Rick moved up to Tahoe Donner full-time and Kio worked for the association. Rick still works for Tahoe Donner. Twenty-five years later, I was able to take my children to Tahoe Donner and put them in snowflakes where they could also learn to ski.
When my parents passed away, my husband and I bought the home that they built in order to continue to make amazing memories in Tahoe Donner. So, my memories are more of the feelings I have at Tahoe Donner. My parents felt safe to allow us to ski on our own there, which is not something we could do anywhere else. I still feel that way today.
---
SANDY McDIVITT WONG
Our family bought property in Tahoe Donner in 1971, initially on Skislope Way at the Tahoe Donner Downhill Ski Area. When it came time to build the ski resort, there was a moratorium in building. So, in 1974, we bought one of the first places built by Bob Jensen on Northwoods Boulevard. I was 24 years old and worked on my skiing skills at the Downhill area.
My mother, Karen Fly, and Danish grandmother, Marie Berg, lived here for many years. My mother learned to cross country ski in her 60s here at the Tahoe Donner Cross Country Ski Center.
In 1986, my son, Keith Ross, starting at age 3, learned to ski at Tahoe Donner, initially between my legs. It wasn't long afterward that he was outskiing me and joining the ski team. When he was in 3rd grade at Truckee Elementary School, the Truckee Recreation Center would pick the kids up at school and bring them up to the cross country area. That's when Keith learned to skate ski, a skill he applied to downhill racing to skate out of the gates.
This season, we plan on introducing skiing to my 2-year-old fearless granddaughter, Kimberly Ross, right here at Tahoe Donner! And my 74-year-old Hawaiian husband will be taking lessons along with Kimberly! That's 5 generations, folks! I'm grateful for all these years.
---
ROB BROWNELL
My family learned to ski with my cousins' family at Tahoe Donner around 1978 when both our families decided they'd rent a condo at the ski bowl condos for a week. We had a blast skiing, building snowmen and just being kids. We had so much fun we came back for a second year and did it again, but this time we were joined by several other families.
We were all members of the same swim team, so we started to swim in the summer and ski in the winter at Tahoe Donner. It became a tradition that we'd all meet at the lodge and ski for the day, then our parents would enjoy some après in the bar and we'd enjoy the jukebox (I can't tell you how many times we heard the song "Whip It").
What made Tahoe Donner so great was the family atmosphere. My young sister at the time would take a nap at the bottom of the lift while we skied. We had a great ski instructor who was at Downhill Ski Resort for many years by the name of Chris. We'd run into him each winter and talk for a few minutes to catch up. We'd also all say hi to our favorite ski patrolman, "Uncle Pete," who every kid knew because, if you fell and needed a pick-me-up, he'd be there with a piece of candy.
One of our favorite memories as a family was skiing with our neighbors who joined us, their dad having just purchased new skis and feeling so proud. A little after lunch, he went up Eagle Rock for his afternoon adventure. A while later, one of the members in our group looked up and said, "Hey – there's a guy walking down the hill!" As the man got closer, we all realized who it was. He came in the lodge saying, "My ski broke." A man who had served multiple tours in Vietnam was sad because his new skis broke when he hit a berm. It became one of our favorite stories that was shared for years.
As we all grew older, we still found our way back to skiing at Tahoe Donner. It was great because we could always find each other on the mountain. The family-friendly nature of Tahoe Donner has always been there; you ski and meet great people in line, and oftentimes you see them on your next trip. For me, I've run into people several years in a row and ski or board a few runs together.
Tahoe Donner will always be a special place to me. It still has the "Old Tahoe" feel to the hill. It may no longer be called Tahoe Donner Ski Bowl, but it still has so much of the character that made it unique – friendly employees, reasonable prices, close proximity and compactness that you find on the mountain.
We've all shared these pictures with each other and laughed at the "Hot Chilly" pants, the jeans, the fluorescent colors we'd wear and, of course, nobody in a helmet.*
*Always wear a helmet, folks!
---
NANCY SCHAEFFER
I moved to Truckee in 1971 after college thinking I'd just come for a winter. I had just gotten my teaching credential and was looking for a job. I went to Tahoe Donner and got a job the first day at the ski hill serving food. I had never been a waitress or anything of that sort.
This is where I learned to ski. I never grew up with this lifestyle, and the person who taught me was another person who worked at the ski hill – not even a ski instructor.
After a couple weeks, I moved down to the restaurant at Northwoods Clubhouse and was there until May. Dart Industry owned it at that time, and it was known as the best restaurant in Truckee. That is where I met my husband, who also worked at the restaurant and was waiting to work at the golf course.
We got married in 1975 and were married for 38 years. We bought property in 1982 but lived here and raised our children since 1976.