Meet the Golf Pro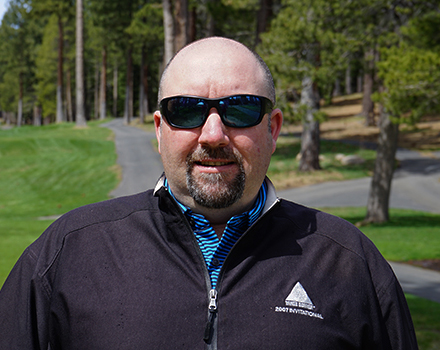 James Murtagh is Tahoe Donner's golf pro and manager of Tahoe Donner Golf Course. He brings to the golf team and visitors alike a magnitude of experience, including 22 consecutive seasons of working in the golf business, 21 of which have been at Tahoe Donner Golf Course.
Murtagh is ready to kick off the 2021 golf season. "The golf club members and staff members have always been my west coast family," said Murtagh, who is originally from Vermont. He spends his winters managing a ski school of about 80 instructors, enjoys playing golf and teaching golf at Tahoe Donner. "Teaching golf and skiing for years has taught me that to be an effective instructor you must have a good eye and be able to adapt to different teaching and learning styles," explained Murtagh. "Golf is a sport where you are constantly working on your swing or on course management to improve your scores."
Ironically, as much as Murtagh enjoys the sport now, back in his adolescence he had no interest in golfing. "I didn't start playing golf until I was 17," he recalled. "I was always into skiing and tennis, but never really had a desire to play golf. Finally, a friend of mine who was an avid golfer talked me into trying it and I fell in love with golf instantly."
Today Murtagh loves golf and even has a favorite hole on Tahoe Donner Golf Course. "I would have to say number 15 because it's my only double eagle." Stop in to say hello to Murtagh. He is available to assist members, guests and the general public with golfing needs all summer long. For more information, call the Pro Shop at (530) 587-9443.