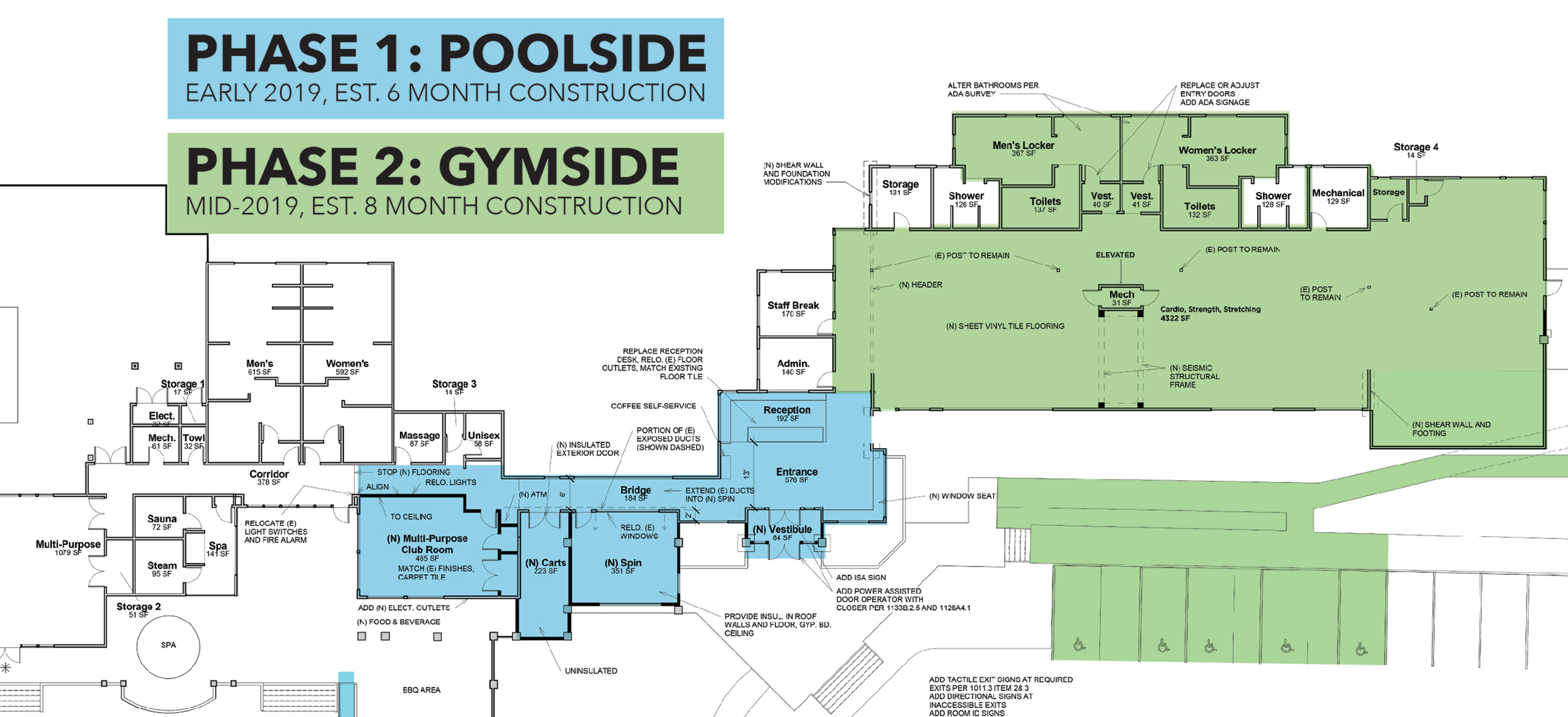 Trout Creek Recreation Center Renovation Project Updates
Blog Featured, Capital Projects, Member News, Trout Creek Recreation Center


Dec 10

Construction began on January 7, 2019 on the two-phased renovation of the Trout Creek Recreation Center. A member-led General Plan Committee (GPC) taskforce has worked since 2016 gathering member feedback and diligently planning to meet the needs of the community. Please check back here for project updates and thank you for your patience during this temporary construction inconvenience.
---
WHY ARE WE DOING THIS
Growth and alleviate overcrowding
Safety, comfort and member experience
Increase usable space
---
HOW WILL CONSTRUCTION IMPACT MY WORKOUT
PHASE 1 – Pool Side: There will only be minor workout impacts, including temporary entrance at the west side of building.
PHASE 2 – Gym Side: Equipment and classes will be relocated to meet the fitness needs of as many members as possible.
---
KIDS CLUB TEMPORARY CLOSURE
Despite exhausted attempts and discussions, we regretfully are unable to locate a safe location for Kids Club during the construction process. Kids Club closed on January 5 and will reopen again once construction is completed in early 2020.
FAQS
Q: Will my pre-purchased Kids Club punch card be refunded?
A: Yes, all remaining time on punch cards can be refunded at the front desk.
Q: When will Kids Club be offered again?
A: Yes, we will reopen Kids Club upon the completion of the project in early 2020.
Q: Are there alternatives to Kids Club offered?
A: Yes. We will provide list of local child care providers and be collecting and distributing contact information of any parents who may be interested in participating in a cooperative for watching each other's children. For more information on these childcare alternatives, please email kwinther@tahoedonner.com.
Q: Who can I contact about the construction?
A: Kyle Winther, Trout Creek Manager, or Tommy Kelly, Assistant Manager.
---
HOW LONG WILL CONSTRUCTION LAST
In an attempt to complete this project as quickly as possible, construction crews will be working seven days per week from 7AM-7PM.
PHASE 1 – Pool Side: Starts Jan. 2019 and lasts approximately six months.
PHASE 2 – Gym Side: Starts mid-2019 and lasts approximately eight months.
---
WHAT IS THE COST OF THIS PROJECT
$2.4 million estimated cost, which includes all hard and soft costs associated with this capital improvement.
---
BE ADVISED
This is an active construction zone and a hard hat is require to enter. Please stay out.
There will be some construction parking required. Please do not park in reserved construction sites during the project.
SEE MORE INFORMATION ABOUT THIS PROJECT HERE.