Mark Engel Learned to Ski at Tahoe Donner. Now He's a Front-Runner for the 2018 Olympic Team
Alder Creek Adventure Center, Association News, Downhill Ski Area, Member News, Trout Creek Recreation Center


Jan 05
Posted on Jan 8, 2018
By Jamie Bate | Photos: Carlo Berry, Joanie Engel and the U.S. Ski & Snowboard
Sometime around 1993, when Mark Engel was still a toddler, his dad, Kurt, strapped skis to his feet at Tahoe Donner Downhill Ski Area. Even then, Tahoe Donner was known as the best place to begin.
The two sped down the mountain together, Mark's skis positioned safely between his dad's. At that point Engel could barely walk, much less understand how that first run would blaze the path he is now on, one that could lead to the 2018 Winter Olympics.
"My dad put me on skis before I could walk by holding me in between his legs and skiing down the mountain with me, so I don't actually remember my first-time skiing," Engel says. "But I did take my first turns at Tahoe Donner."
Fast forward more than two decades from that day to a weekend in December 2017 and you would have found 26-year-old Engel in Val d'Isère, France, nearly 6,000 miles from Tahoe Donner, but with skis still attached to his feet. The kid who learned to ski at Tahoe Donner, raced on the Sugar Bowl Ski Team and came to crave Tahoe powder was in France focusing on a World Cup slalom race with an eye toward making another memory – the 2018 Olympics in PyeongChang, South Korea.
MEMORIES MADE 
Even though the young Engel didn't remember the first time he skied, the thrill of that initial run at Tahoe Donner was stored somewhere in his psyche. It didn't take long for those skills to manifest on the slopes, especially having a father who managed a local race department.
"My first-ever ski race was a youth event organized by Tahoe Donner," Engel recalls. "I wasn't old enough to know what place I got in the race, but I received a trophy for my performance. At that point, I figured I must be pretty fast. I didn't realize everyone got a trophy and my competitive spark for ski racing was born."
That spark for skiing was stoked into a flame on the Alpine Meadows Ski Team, but it was in the Austrian Alps that Engel witnessed something that burned into his skiing psyche – the Hahnenkamm.
From 2011 to 2013, Engel raced on the U.S. Ski Team and notched podium spots at the 2011 and 2013 U.S. Alpine Championships. He then won NCAA National GS Championship in 2014 while at the University of Utah. Up to that point, skiing for Engel was purely sport. The Hahnenkamm, the granddaddy of Euro ski racing, introduced another intoxicating element – spectacle.
"The first World Cup race I ever watched was the Hahnenkamm. It was almost unreal to me to see 50,000 loud and drunk spectators all there for a ski race," Engel says, noting that the largest U.S. crowd he'd seen prior was about 100 people at U.S. Nationals. "I remember being in Kitzbühel, looking at the crowd, feeling the energy, and thinking to myself that I really wanted to be a part of it all."
It didn't take long. Back on the U.S. Ski Team in 2014, Engel's first-ever World Cup race was right there in Kitzbühel on the infamous Hahnenkamm amongst the same legion of rabid ski fans.
"I raced the Super Combined event and ended up falling just before the finish line," Engel says. "I was thrilled to be part of the action and to hear the crowd cheering me on for my effort, despite not finishing the race."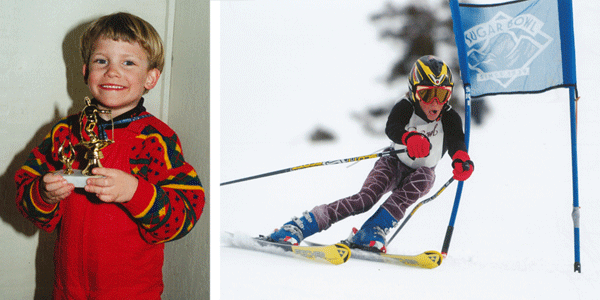 THE ROAD TO KOREA
Each year since his first World Cup event, Engel has become a better skier, improved his world ranking a little bit more, and gotten closer and closer to reaching his lifelong goal of being one of the top ski racers in the world.
"I still have a long way to go, and perhaps the most difficult part is just ahead of me," he says. And that is to make the U.S. Ski Team for the 2018 Winter Olympics in PyeongChang, Korea.
Engel is currently ranked 36th in the world and second in the U.S. in slalom, but he wants to be ranked in the top 10. "The only way to break into the top 10 in the world is to consistently finish fast at World Cup races, but so far, I haven't had the success I'd like to see," he says.
Engel has had flashes of success, including placing third in the first run of a World Cup slalom in Zagreb, Croatia. Qualifying for Korea will be determined by his performance through the six World Cup slaloms that lead into the Olympics, which start Feb. 9. There are six U.S. racers competing for four spots, and based on current world rankings Engel is second in line to go to the Games.
"Right now, Korea is very much on my radar. However, that doesn't necessarily mean I'll go," he says. "If I am able to secure some great finishes through the next six World Cups, then I can guarantee a spot for myself on the team." If his results are mixed, the decision will come down to the end of January, when U.S. Ski Team officials choose the skiers racing the fastest just before the Olympics to guarantee the best possible team at that time.
"I won't be coming home until the end of January, just before the Olympics. I'll know by then if I've made the team, and I'll have a chance to rest up before the Games," Engel says.
TAHOE DONNER ROOTS
When he is home this winter, Engel will ski, see family and spend time in Tahoe Donner. From the Downhill Ski Resort and summer tennis camps to playing at Trout Creek Recreation Center and working at the Recreation Hut at Northwoods Clubhouse, Tahoe Donner is the place that shaped Engel's athleticism and work ethic.
As a little boy, Engel learned to swim in the Trout Creek pool, and in the summer he was at the recreation center almost daily playing basketball, swimming and making friends.
"My first job ever was checking memberships at the Northwoods Clubhouse pool," he says. "I worked there two or three years and had a blast."
Growing up in Tahoe and skiing at Tahoe Donner and Sugar Bowl gave Engel countless opportunities to ski powder, "which is where my love for skiing stems from," he says. That love has led him down the road to the Olympics. And even if he doesn't quite remember his first time on skis with his dad, that first race is always in the forefront of his memory.
"I never forgot my first-ever ski race at Tahoe Donner," Engel says. "I think I still have the trophy somewhere at my parents' house."
HELP SEND MARK ENGEL TO KOREA
Ski racing at the highest level isn't an easy undertaking either physically or financially. The U.S. Ski Team is a privately funded program that allots athletes financial support based on various factors, including world ranking. Mark's quest to compete on the World Cup circuit and race at the 2018 Winter Olympics in Korea is an expensive venture.
With Engel's current world ranking, he is not fully supported by the U.S. Ski Team. A percentage of his expenses are covered, but Engel still has had $30,000 to $40,000 worth of expenses every year for the past few years.
"Since I am working full-time to be an athlete, my only option to cover the cost of my season is through fundraising and sponsorships, which is usually about a 50-50 split from both sources," Engel says.
Ski racing fans or anyone else who wants to help underwrite Engel's quest to Korea and beyond can assist by contacting Engel at markengel33@gmail.com. Engel will help connect people with a national non-profit that supports U.S. Ski Team members with fundraising efforts. Donations are tax-deductible and pay the expenses to the U.S. Ski Team on the athlete's behalf.