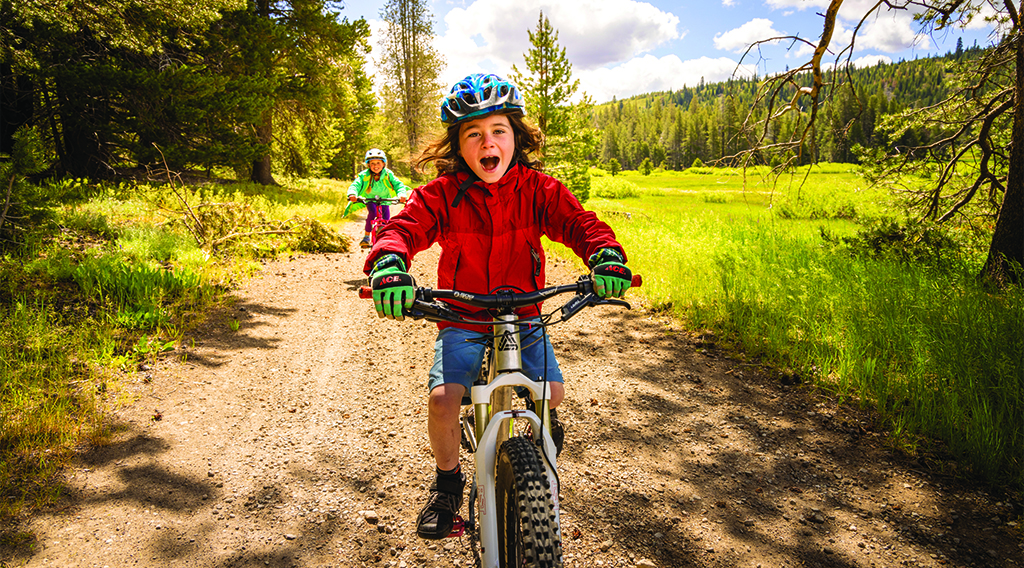 World-Class Biking in Your Own Backyard
Alder Creek Adventure Center, Alder Creek Cafe, Association News, Bikeworks, Featured


Jul 21

By Ali Dickson

Biking on the Tahoe Donner trail system is more than just a way to spend a day. With over 60 miles of trails, a rental shop boasting the newest bike models, professional instructors to help you improve your skill and a repair shop to fix everything in between, Bikeworks is your one-stop shop for all your two-wheeled adventures this summer.

TOP TIER FLEET
Not all bikes are made the same, which is why Bikeworks offers a quality inventory year after year. Dave Walker, Tahoe Donner Bike Program Manager, shares, "We replace part of our fleet every year to make sure our rentals are always a top priority. Especially if you're a new rider, the nicer the bike, the easier you can progress and move up in the trail system."

Bikeworks offers a variety of bikes, from mountain bikes to road bikes to trailer attachments so the little ones can join in the fun. The most popular bikes that come out of the shop are the mountain bikes, though, so Dave makes sure the models he stocks are some of the best. "For a mountain bike that can get you through obstacles but also keep you comfortable as you cruise, the Liv Pique for women is hard to beat. The full-suspension setup and handling make learning and improving a piece of cake."

The Giant Trance, the male version of the Liv Pique, provides the same comfort and capability on the trail. On top of quality products, all Tahoe Donner members receive 10% off bike rentals. Add in a complimentary helmet, and you've got yourself a quality setup you can't find anywhere else. Dave shares,
"It's one of the coolest ways to get into a sport if you're a member. The discount for members on these rentals and the ability to hop on one of the best trail systems around right from your neighborhood – it's pretty special."

LESSONS + CLINICS
You have your bike. You grabbed a trail map. Your helmet is strapped. Now what? Turn to the experts to help you find your flow on the trails! Whether you want a personalized private lesson or a guided ride, professional instructors who are familiar with your bike, the skills and the trails will make you feel like a pro in no time. Especially if you have a family looking to up their game, Dave encourages everyone to take advantage of the private lessons.
"Every private lesson is two hours with an experienced instructor. You can be a total beginner or want to hone a certain skill, but up to two students can join in each lesson, so the kids can take a lesson together or the parents can get out and learn together." If you haven't frequented the trails but don't necessarily need a lesson, a guided tour is your ticket to ride. Usually between 1.5 and 2 hours, a guide will show you around the trail system while offering a few pointers along the way. Your route choice is up to you depending on your fitness and skill, so you can be sure to enjoy the flow from start to finish. With a two-person minimum group size, this is something the whole family can get behind! To reserve a tour or lesson, visit shop.tahoedonner.com
REPAIR SHOP
If you've got a bike, one of the best-kept secrets in Truckee is the Bikeworks repair shop. Tune-ups, overhauls and even a flat tire fix are all right in your community with a faster turnaround time than other bike shops in town. Dave shares,
"We really pride ourselves on our ability to take in bikes and turn them around to get you back on the trail as fast as possible. The bike business has boomed over the past two years since the pandemic, so we know how important it is that you're on the trail quickly."
No reservations are necessary – just bring in your bike, and a shop employee will walk you through the repair process. Stop by the Alder Creek Adventure Center or call (530) 582-9694 for more details.
---
TD MOUNTAIN BIKE CLUB 
The TD Mountain Biking Club is a great way to meet other bikers and enjoy the trail system together while learning more about your bike and community along the way. Group ride opportunities include:
Third Saturday of each month: Group bike rides at the Alder Creek Adventure Center hosted by TD Mountain Biking Club
Every second Friday of the month: Group ladies' rides at the Alder Creek Adventure Center hosted by TD Mountain Biking Club
---
UPCOMING CLINICS + CLUB EVENTS
Every Thursday at 4PM this summer, Bikeworks is hosting a clinic to suit a variety of interests and wants when it comes to bike improvement. These events are free for all members, and non members are welcome to join for $10. What's happening this month?
To sign up for a lesson, head on over to shop.tahoedonner.com and reserve your slot.
JULY 7 | HOW TO FIX A FLAT TIRE
JULY 21 | HOW TO ADJUST YOUR BRAKES
JULY 14 | HOW TO ADJUST YOUR SHIFTING
JULY 28 | ROUTINE BIKE MAINTENANCE
To sign up for a lesson, head on over to shop.tahoedonner.com and reserve your slot.
---
ALTERNATIVE TRAIL ACTIVITIES
Not into biking? There are plenty of other ways to enjoy the trails!
Join the Tahoe Donner Trail Running Group every Thursday at 5:30PM at the Alder Creek Adventure Center
Find the Tahoe Donner Wildflower Guide at tahoedonner.com/wildflower-guide and unleash your inner botanist
Take the little ones on a pony ride every Saturday and Sunday by registering at shop.tahoedonner.com
Try your hand at the disc golf course starting at Northwoods Clubhouse
Learn more at tahoedonner.com/bikeworks.com