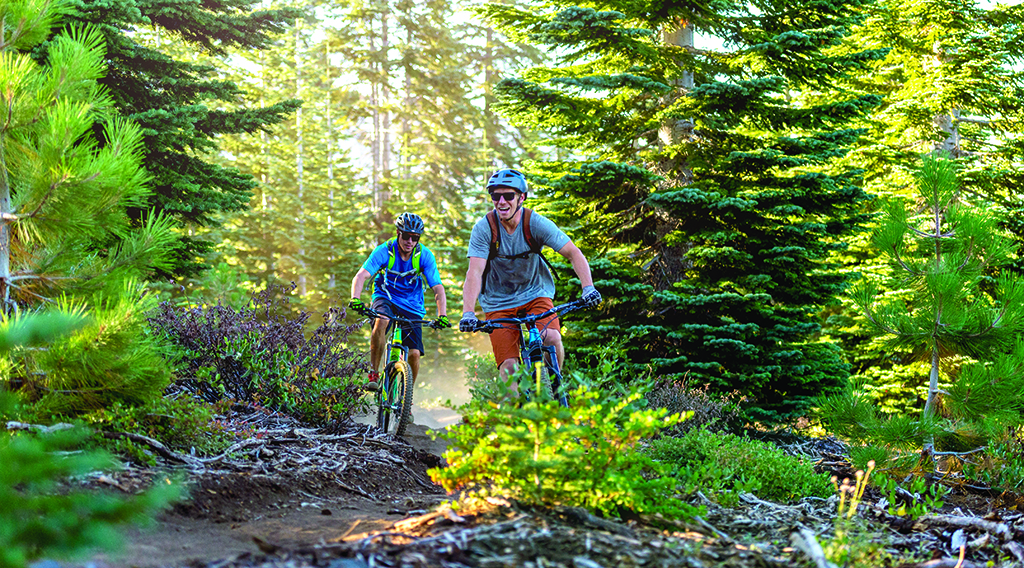 Get on the Right Track | Mountain Biking at Tahoe Donner
Alder Creek Adventure Center, Alder Creek Cafe, Association News, Bikeworks, Trails


Jul 12

By Ali Dickson

The trails, the speed, the beauty, the solitude – what's not to love? Snaking through singletrack is one of Tahoe summers' biggest draws, and Tahoe Donner's trail system is primed for your next two-wheeled adventure. Whether you're a beginner, expert, grom or sage, Bikeworks gets you out the door and on the trail, while Dave Walker, Bikeworks program manager, offers up his best pro tips.

BOOMING POPULARITY
Mountain biking has been an evergrowing sport within the last decade. With last year's quarantine mandates and physical-distancing practices, many were eager to hit the trails more than ever before. With new members to our community, interested riders experiencing the joy of biking for the first time and regulars who know all the best features, Tahoe Donner is home to mountain bikers of all skill levels.

Luckily, even with more people riding, the 60+ miles of trails allow riders to quickly spread out beyond the Bikeworks trailheads.

RENTALS FOR EVERY TYPE OF RIDER
Purchasing a mountain bike these days has never been more popular, and high demand has delayed some purchases by more than a year. Thankfully for those in our Tahoe Donner community, you don't have to wait to hit the trails. For instant gratification and high-quality fun, the rental fleet at Tahoe Donner's Bikeworks has something for whatever adventure you're looking for. Top-of-the-line rentals are available on a first-come, first-served basis, and showing up earlier means a better pick of the lot. The shop opens at 9AM daily, so beat the crowds and secure a top-quality bike for a day of fun on the trails!

THE LATEST FROM TOP BRANDS
The available rental fleet offers something for a variety of biking needs, ranging from full-suspension bikes, road bikes, hardtails, comfort bikes and bikes for the kiddos to attachable trailers for the little ones not quite ready for two wheels. Two brands stand out among the rest on Tahoe Donner trails: Giant bikes for men and Liv bikes for women come out on top with full-suspension comfort and ease over a variety of terrain.

Bikeworks takes pride in replacing many bikes in its fleet each year, so you always get to enjoy the latest models. Select bike rentals begin at just $15 per hour for interested riders and less than $100 per day for a full-day, full-suspension mountain bike rental. Tahoe Donner members enjoy a 10% discount on all bike rentals. To find a full list of pricing and details, visit tahoedonner.com/bikeworks.
---
THE BEST BIKES FOR THE JOB
For all types of terrain, the rental shop has something for your next adventure. Dave's top recommendations to get out in style include:
BEST MEN'S MOUNTAIN BIKE: Giant Trance
BEST WOMEN'S MOUNTAIN BIKE: Liv Pique
BEST CHILDREN'S BIKE: Giant STP for boys and Liv STP for girls (20 + 24 sizes available)
BEST COMFY CRUISERS: Sedona DX
LESSONS + GUIDED TOURS
Jump-start your bike riding with a lesson from the experienced bike instructors at Bikeworks. A private two-hour lesson with a certified instructor will help find your flow, improve your trail speed and build upon your current mountain biking skills. Dave notes,
"Our instructors take a student's level of riding as a baseline to grow to the next level. If someone is just learning, we will show proper body positioning, shifting and braking. Those who have ridden a little longer can tackle larger trails and features like creek crossings."
Private lessons are available for all levels and can be especially helpful for kids who want to progress enough to ride with their friends and families. Pricing is $109 per lesson. Learn more.
RIDE WITH A GUIDE
For those who know the basics but prefer someone to offer a lay of the land and fun facts along the way, a guided ride may be the ticket. Book an instructor for up to two hours for a ride based on ability level. Riders can explore the TD trails with their own personal tour guide, learning about the history of the area, flora, fauna and more. While it's not a lesson, pointers are also given here and there, such as how to properly shift gears and when to sit or stand. At only $30 a person for two to six people, take advantage of this fun and affordable biking option.
---
CLINICS + KIDS CAMPS
For a class with like-minded individuals that fosters your mountain biking skills, clinics are offered throughout the summer and range from introductory classes for kids to women-specific skills improvement events. Clinics in July and August include:
WOMEN'S BASIC BIKE MAINTENANCE: July 8 + August 12
WOMEN'S INTRODUCTION TO MOUNTAIN BIKING: Part 1: July 10 + August 14 | Part 2: July 11 + August 15
FUN-DAMENTAL MOUNTAIN BIKING SERIES FOR KIDS: Ages 8-10: July 10 + August 14 | Ages 11-14: July 11 + August 15
MOUNTAIN BIKING CORE FUNDAMENTALS (AGES 15+): August 21
For something a little longer for the kids, inspire them to get outdoors with weeklong and weekend mountain biking camps! All camps are open to kids ages 10-14 who can ride a bike for 1.5 hours at a time. A fun, safe and exciting environment will allow them to foster their general mountain biking skills while soaking up all the TD trail system offers.
Certain clinics and camps have limited availability, so learn more and sign up at shop.tahoedonner.com.
---
NOTABLE TRAILS
The Tahoe Donner Trail System provides over 60 miles of rolling, rocky, strenuous, breathtaking and otherwise unforgettable routes. What works best for your ability level? Dave has a few favorites to share:
FOR BEGINNERS AND KIDS
Families with small children or beginner bikers should head to the trails near Moondance Hut, like the Lions Leap loop. It's a great trail for beginners and young kiddos.
FOR BEGINNERS TO MORE EXPERIENCED BIKERS
For teens and adults, there are a couple popular options. Beginners can ride down Cinnamon Twist to Euer Valley and ride the loop along the valley. Folks who have a little more riding experience can climb True Grit and then descend Mother Lode and Hidden Gem; this is far and away the most popular ride.
FOR MORE ADVANCED RIDERS
Advanced and fit riders will enjoy True Grit and Mother Lode with the addition of going up East Mustang Sally and down West Mustang Sally. Make sure to go up the east side and down the west, because going the other way requires more exertion.
FOR RELAXED RIDES
Older cruisers, relaxed riders and those who want a nice and easy bike ride should visit Pony Express, Night Hawk and Rough Rider as a nice beginner loop.
REPAIR SHOP, PRO SHOP + WHAT TO WEAR
Of all the accessories to have on a bike ride, the most important one is a helmet, which comes complementary with every rental purchase at Bikeworks. Additionally, closed-toed shoes will improve your biking experience, and dressing in layers will prepare you for the varying temperatures, especially in the morning or evening hours. Snacks and water are must-haves while out and about as well. "It's amazing how good an energy bar tastes when you're out in the thick of it," Dave notes.
---
FULLY STOCKED PRO SHOP
If you forget something, don't sweat it—Bikeworks has you covered.
"In the Pro Shop, we have it all here as far as helmets, gloves, drinks, snacks, shorts and jerseys go. Additionally, what's new this year for Bikeworks is that we've become one of the biggest Fox dealers in the area for clothing, helmets and protective gear. We've always carried gloves, but now we have so much more."
If you want to call a bike your own, Bikeworks sells new bikes as well—just be prepared for potentially long wait times, as demand worldwide is high.

RAPID REPAIRS
Could your own bike use a little TLC? Whether it's a tune-up, tire fix, total overhaul or something else, take advantage of one of the quickest turnarounds and repairs in the area— some Tahoe areas need up to a month to turn around repairs in comparison! A basic tune-up runs only $75, a flat tire fix only costs $10 plus the tube price, and other repairs are available by the hour. Learn more about the repair shop at tahoedonner.com/bikeworks.
GET OUT THERE
When it comes down to it, there's nothing like the freeing and electric feeling of a mountain bike ride. Dave shares, "Mountain biking is one of the most fun activities you can do. You'll be able to explore a lot more of the 60 miles of Tahoe Donner trails on bike than by foot. Half are dirt roads anyone can ride, and the other half are singletrack trails that even the most expert riders will have a lot of fun on." For more information on rentals, lessons, tours, repairs and more, visit tahoedonner.com/bikeworks.
SAFETY CONTINUES
More than just distancing on the trails and complementary helmets with a bike rental, the team at Bikeworks continues to ensure that your riding time is safe. At the time of press, everyone indoors is no longer required to wear a mask unless they are unvaccinated against COVID-19. Sanitation practices for bikes and gear remain stringent. Helmets are sanitized after every use and only rented once per day. Seats and handlebars are disinfected between rentals. All interior surfaces are wiped down regularly.
TRAIL ETIQUETTE FOR BIKERS 
Here are a few tips to keep things friendly on the trails:
• Standard yield etiquette states that uphill traffic has the right of way and that mountain bikers must always yield for pedestrians and horseback riders.
• Bike traffic should stop, get off their bikes and step to the downhill side of the trail to let horses, hikers or runners pass.
• It's important to always slow down and announce your presence when approaching people and horses to avoid startling them, but it's also a great opportunity to share a smile and knowing nod as we all appreciate how lucky we are to be enjoying our beautiful trails.