Activity of the Week: Go on a Guided Horseback Ride
Activity of the Week, Equestrian


Jul 24

By Ashley Quadros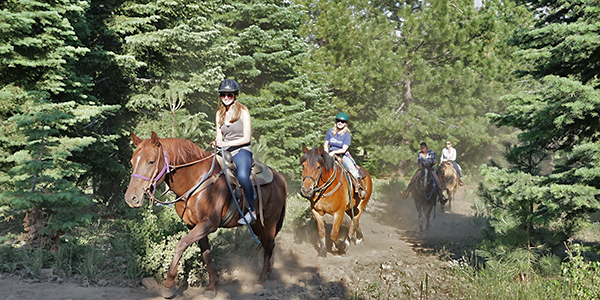 Get in touch with your western side and go out on a guided horseback ride. It's a unique experience and whether you are visiting Tahoe Donner for the first time or have lived here for years, horseback riding at Tahoe Donner Equestrian Center is a fun adventure every summer.
No equestrian experience? No problem! Tahoe Donner offers horses trained to meet every riders' skillset, including first-time riders who have never had any contact with horses. Learn the basics from the pros and let an experienced guide take you on a quest in the mountains. Explore trails you've never seen and take in new sights and scenery for the first time.
One- and two-hour group guided trail rides are offered every Wednesday through Sunday by reservation, along with pony rides for kids ages 2-6. However, if you'd prefer a private outing, that can be arranged, too! The Equestrian Center offers unique dinner rides for your own group of family or friends.
To sign up for trail and pony rides, private dinner rides or even private lessons, just call the Equestrian Center at 530-587-9470. And with featured events, such as Cowgirls & Cocktails, Pancakes & Ponies and Saturday Night BBQs, you'll have more reasons to return all season. Events book up quickly. Explore all signature events and sign up soon!