Forestry Activities Update: July 31
Architectural Standards, Association News, Forestry, Member News


Jul 31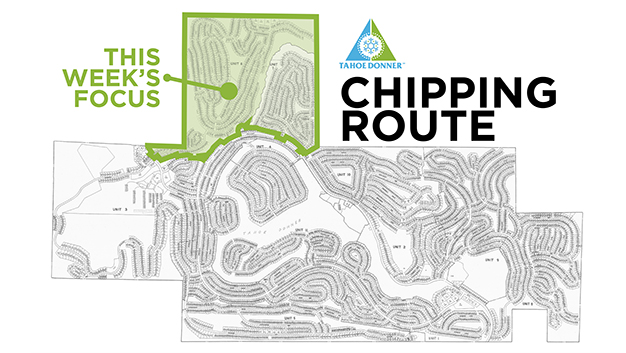 Tahoe Donner's land management departments remain busy addressing winter storm damage related to member property, forest health and association maintenance. Thanks to all members for your cooperation and patience in this ongoing processes.
Please see below for an update on the latest forestry and architectural standards activities related to member and homeowner services:
Free Chipping Service:
Tahoe Donner's Forestry department continues to operate both street chippers on a six-day per week schedule to address the high volume of chipping piles resulting from regular defensible space work and this past winter's storm damage.
This week, chipping crews will be focusing their efforts this week in the defensible space inspection area of Unit 6 and a portion of 7 (highlighted in the map above) including Alder Creek Road, Stockholm Way, Wolfgang Road, Pinnacle Loop, Hillside Drive, etc. They will also be addressing streets such as Copenhagen Drive.
Forestry Department Fun Facts: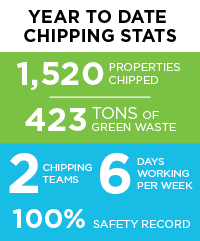 July Stats:
832 debris piles chipped
202 tons of green waste , twice as much compared to July 2016
700+ properties visited for tree advice/permits, defensible space and forest health related to winter storm damage.
A special thank you to the Tahoe Donner chipping team for their hard work and 100 percent safety record.
Defensible Space Homeowner Inspections:
Last fall, the Forestry department completed 733 defensible space inspections in Units 6 and portions of 7 as part of the 2017 Defensible Space Homeowner Inspection cycle. In addition, the department has met with over 500 property owners in the inspection area to guide and educate them on the work needed on their properties.
Property owners within the inspection area needing some form of work were notified starting May 15. Re-inspections of the properties needing work began July 3. If your home is in the inspection cycle area and you have questions regarding the identified defensible space work needing completion, please contact the Forestry department by calling 530-587-9432 or email forestry@tahoedonner.com.
Tree Advice and Permits:
Take the opportunity to meet with your professional forestry staff to get tree advice and tree removal permits as needed. Having a professional forester on staff is a benefit to the community for forest health and defensible space management. Management staff have met and provided advice and tree removal permits to over 550 Tahoe Donner members since May 1 2017.
Forestry Activities in the Common Area and Other Association Real Property
Tahoe Donner have worked steadily through some of the harder hit portions of the association's common area from this winter including Lausanne, Northwoods Blvd. and Bernese.
Tree limbing and thinning will begin in Unit 8 of the association.
Firebreak and plantation maintenance is scheduled to begin shortly with mastication contracts scheduled to be awarded the first week of August with work anticipated to begin after August 15.
Herbicidal spray of last year's masticated firebreaks began and will continue through the next couple of weeks.
Contracts for addressing the storm damage in the Euer Valley are due August 15 with board of directors review at the next scheduled board meeting on September 2. Work will begin in September pending board approval.
Reminder about Fire Safety and Fire Pits
Tahoe Donner takes fire safety seriously while at the same time allowing for member enjoyment of appropriately contained warming fires if they comply with Tahoe Donner, Truckee Fire Protection District, and Town of Truckee rules and regulations. Please review the most current information for fire pits and fire safety: