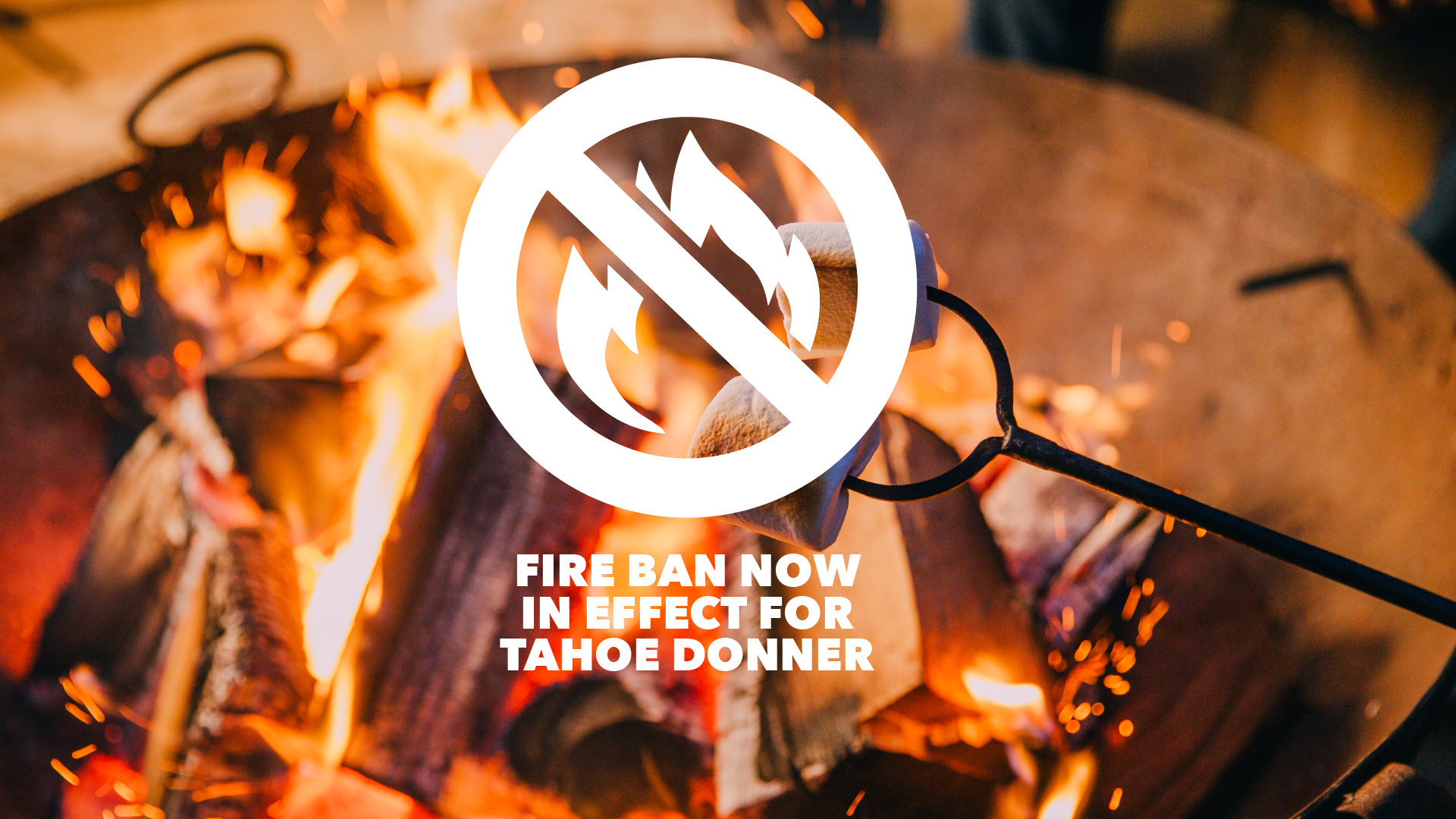 NEW FIRE BAN FOR ALL TD OWNERS, RENTERS + GUESTS
Alder Creek Adventure Center, Architectural Standards, Association News, Beach Club Marina, Bikeworks, Blog Featured, Forestry, Member News


Aug 09

Play a part in ensuring your home, neighbors and entire Tahoe Donner community and beyond are safe.

Extreme wildfire danger conditions continue in the region with a real concern expressed by members regarding warming fires' potential to cause a wildfire in these conditions. On August 9, 2018 the Tahoe Donner board of directors held a special board meeting to set a temporary ban on all outdoor wood fires and use of charcoal grills until further notice due to the extreme wildfire danger conditions that currently exist within our region. Citations for violations will be issued starting at $2,000 and up to $5,000. This applies to all Tahoe Donner residents, renters and guests.

Acting under the authority provided in the Covenants and Restrictions Article III, Section 7, to enact emergency rules for the safety and health of the members the board of directors approved a temporary ban of all outdoor wood and charcoal fires (regardless of whether it's in a commercially manufactured fire burning device).

To report a fire, call 911 immediately. To report a violation of this ban, call (530) 414-8166. 
---
NO OUTDOOR WOOD or CHARCOAL FIRES
Approved 4/0 at Aug. 9 Special Board Meeting
Immediate ban on ALL outdoor wood and charcoal fires, until further notice. Effective immediately, until further notice, outdoor grilling is restricted to gas grills only with 15 feet vertical clearance and horizontal clearance to defensible space standards.
1st violation wood fire in a commercially manufactured burning device $2,000 minimum fine to $5,000 maximum fine, to the property owner(s) on title.
1st violation wood fire in a non-commercially manufactured burning device, such as a fire ring, camp fire, any fire that is in contact with the ground $2,500 minimum fine to $5,000 maximum fine, to the property owner(s) on title.
2nd offense in a calendar year (while burn ban is in effect) from the 1st violation, fine doubles to $4,000-$5,000 to the property owner(s) on title plus suspension of amenity privileges for a minimum of 30 days.
3rd and all subsequent violations, fine will be $5,000 per occurrence plus suspension of amenity privileges for a minimum of 30 days.
Additional Fire Prevention Reminders + Info: 
Tahoe Donner is smoke free: No smoking at all Tahoe Donner facilities including but not limited to The Lodge Restaurant & Pub, Tahoe Donner Golf Course, Northwoods Clubhouse, Beach Club Marina, Trout Creek Recreation Center, Alder Creek Adventure Center, the Equestrian Center, the Tennis Center, Tahoe Donner Campground, the ski areas, parking lots, and open space and trails.
No off-street parking in dried grass areas
Minimize use of gasoline powered tools such as weed trimmers, lawn mowers and other spark producing power tools now and never use on red flag days.
1/8th inch mesh screens are required over gas fires
Charcoal barbeques at the Beach Club Marina are closed until further notice. Gas grills will be available for use.
No campground fires
---
Enforcement & Accountability
As violations to this emergency act may constitute an immediate threat to safety, create fire hazard, and may threaten material damage to, or destruction of, the Common Area or Common Facilities, violations will be processed under the provisions of Article XIII.6. d.(ii) of the First Restated Declaration of Covenants and Restrictions whereby immediate disciplinary action may be imposed, with the right of the owner to request a hearing thereafter.
In any event that causes a fire regardless of size, you are required by law to report the incident, call 911 immediately.  You as a home owner or contractor are liable for any damage that is caused by negligence, whether an act or omission.  Fire damage can be severe and can drastically reduce the value and beauty of Tahoe Donner Association.
---
SUPPORTING INFO
Article III, Section 7
(b) Adoption and Amendment of Rules. Association Rules may be adopted or amended from time to time by majority vote of the Board in accordance with this subparagraph (b). Except in the case of: (i) rules or regulations adopted to respond to an emergency which threatens the health or safety of the residents or immediate damage to or destruction of any Common Area...
The Covenants Fire Safety Rule states, ...No campfires, bonfires, or fireworks of any kind are allowed on private lots, common areas, or other association-owned properties at any time. Commercially manufactured gas and charcoal barbeques, smokers, and commercially manufactured fire burning devices, such as outdoor fireplaces and chimineas, equipped with screening and/or spark arrestors, with a maximum screen opening of 1/8th inch, to prevent the escape of sparks and coals, and operated in compliance with the Town of Truckee and the Truckee Fire District's safety and building codes, and according to the manufacturers instructions, on private property lots only, will be allowed...