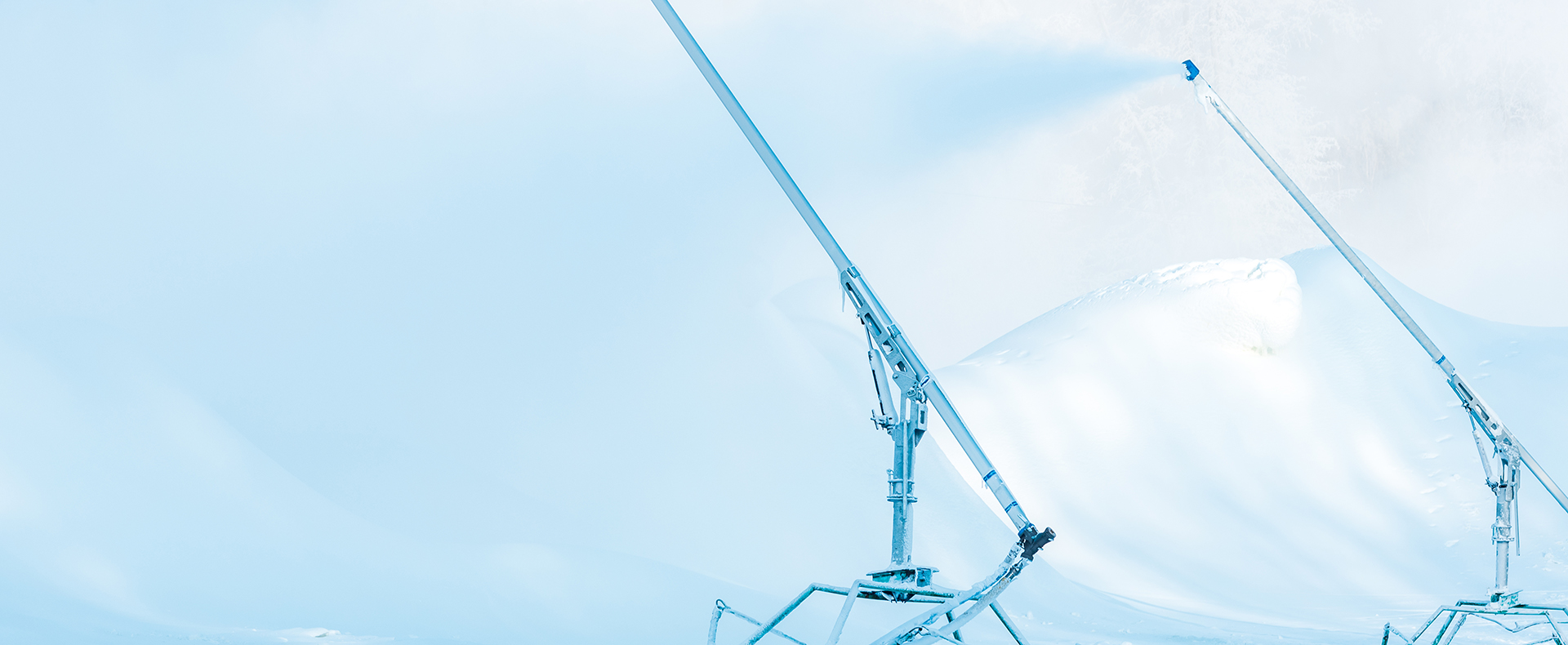 Bringing Out the Big Snow-Making Guns This Winter
Alder Creek Adventure Center, Association News, Cross Country Ski Area, Featured, Member News


Nov 10

The Cross Country Ski Center Unveils its Plans For Snow-making This Winter Season
By Cynthia Cendreda
---
With cooler weather and shorter days, you'll likely hear with increasing frequency utterances to "pray for snow." It is this time of year when winter sports enthusiasts eagerly await – nay, attempt to conjure – the start of the ski season. This year, motivated Nordic skiers may not have to wish so hard. The Tahoe Donner Cross Country Ski Center has announced its plans to make snow as soon as conditions allow, hoping to open some of its programs and trails by Thanksgiving weekend.
As the first resort in the region to install a snow-making system dedicated to cross country trails, Tahoe Donner is taking a cutting-edge step toward being able to offer an earlier opening date and a more reliable season at the world-class facility. So, in addition to the collective invocation for early winter precipitation, be sure to supplicate for an extreme drop in temperatures and humidity somewhere around mid-November.
Taking Matters Into their Own Hands
For Tahoe Donner Cross Country Ski Area Manager Sally Jones, the implementation of a snow-making system has been a long time coming. "We had begun to seriously consider investing in snow-making in 2018 after several years of drought. And through our research, we determined that it wouldn't take a huge system to better guarantee snow on the trails, even in bad years." 
While most of the trails receive adequate snowfall every year, snow-blowing efforts focus on areas where holding snow can be difficult; this improves access and helps maintain a more contiguous trail system for the duration of the winter season. "It's an investment that not only provides our skiers an enhanced overall experience but again puts us as a leader in the industry," says Jones. Snow-making is also planned for the teaching areas – as weather and conditions permit – also allowing for potentially earlier availability of XC lessons. 
Snow-Making Takes "Dew" Diligence 
All the planning and preparation that has gone into this Truckee Donner Public Utility District-supported project is worth noting. Jones and the Tahoe Donner Capital Projects team have worked diligently to ensure an efficient and sustainable operation that will have as

little strain on the town's water supply and as low of a noise impact on the surrounding households as possible. And as part of Tahoe Donner's commitment to the environment, no artificial additives will be put in the water as is done at some resorts.
The engineers and crew are also well informed on the ideal conditions for blowing snow on the XC trails, which differ from the downhill resort given the elevation and other geographic factors. While artificial snow can be made when air temperatures are around freezing (32 degrees Fahrenheit), optimal conditions occur when the wet bulb temperature (a combination of temperature and humidity) reaches 24-26 degrees Fahrenheit or lower over a sustained period. The team carefully considers all these elements when deciding the right time and location to make snow. A combination of "stick" guns, which produce a more focused stream of snow, and "fan" guns that disperse snow over a much wider area, ensures that the process maximizes efficient use of power and water.
Please be aware that once snow-making has started, the XC Ski Center asks that trail users respect closures to ensure their safety and preserve the snow for early-season skiing. To learn more about trail etiquette this season, visit tahoedonner.com/xc. 
Man-Made Versus Natural Snow – is There a Difference in Quality?
Natural snow is comprised of a complex network of crystalline structures, where crystal "arms" form around tiny particles in the air such as dirt. On the other hand, artificial snow is made by pumping millions of water droplets into the cold air, where they freeze and eventually fall to the ground. This type of snow is heavier and denser given its higher water content. And when magnified, one would see that man-made snow is minute balls of crystallized ice without "arms" attached.  
So how might artificial snow impact your XC skiing experience? It's likely that you won't notice a difference. But you could be out there earlier in the season and the snowpack might be deeper where snow is made! The density and water content of man-made snow can form an ideal base for natural snow to fall onto. It packs down quickly, lasts longer and is more resistant to rain. And while freshly blown snow might be wetter than natural snow, once groomed, there is very little variation in surface texture.
Just Another Perk for Cross Country Skiers
With stunning views of the mountains, 2,800 acres of Sierra Nevada terrain for all ski levels, and over 100 km of breathtaking XC and snowshoeing trails, there are already so many reasons why the Cross Country Ski Center is world-renowned. For the facility to be able to provide earlier-season access and more reliable conditions, Tahoe Donner solidifies its spot as Sierra Sun's Best Cross Country Ski Resort for seven straight years. 
For more information on this snow-making project, the Cross Country Ski Center, season passes and more, visit tahoedonner.com/xc.