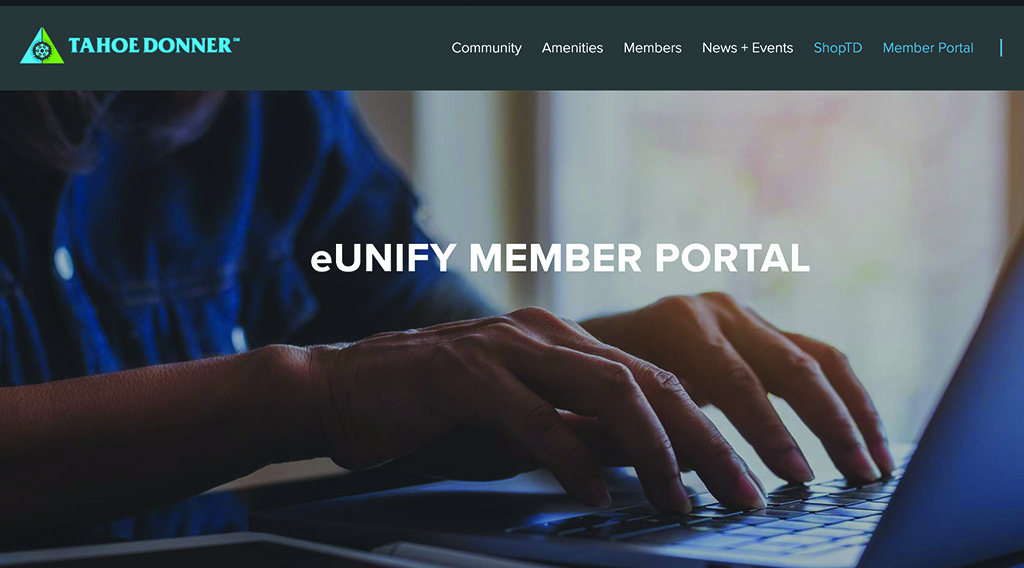 Getting Online with Tahoe Donner | ShopTD vs Member Portal
Association News, Capital Projects, Featured, Member News


Feb 03

Within the last year and a half, Tahoe Donner has launched two online member platforms: the renovated ShopTD store and the new member portal. What is the difference between the two, and which one should you use? (This article is also available to read in the February issue of Tahoe Donner News.)
SHOPTD

ShopTD is Tahoe Donner's online store for amenity offerings. Whether you want to schedule ski lessons or register for summer camps, ShopTD allows you to easily reserve products and services in advance. Seasonal products in ShopTD include:
• Beach Club Marina rentals and tours • Bikeworks rentals and tours • Cross Country Ski Center trail passes, lessons and rentals • Downhill Ski Resort lift tickets, lessons and rentals • Equestrian Center pony rides • Snowplay tickets • Camps and programs • Ski season passes
Members are not required to have a ShopTD account, but if you want to make any of the above purchases in ShopTD, you will need to create a profile. When purchasing from ShopTD, here are some helpful tips:
Ensure all child members, including those 6 and under, are set up on your ShopTD online profile at shop.tahoedonner.com. To view members on your profile, log in to ShopTD and click "My Account." Please contact Member Services if you need to add additional Tahoe Donner members to your account. If you have never logged in to ShopTD and are having trouble creating an account, visit the web for more information and a short how-to video.
During popular periods, such as when summer and winter programs go on sale, anticipate longer-than-normal online wait times. You may be placed in our ShopTD virtual waiting room during high-traffic periods.
Be sure to check out within 15 minutes of adding items to your cart. Once you have added items to your cart, those items are reserved for you for up to 15 minutes. After 15 minutes, those items may be allocated to other members and you may receive an error at checkout.
MEMBER PORTAL

While ShopTD focuses on amenity information and products, the new online member portal focuses on member information and financials. This secure portal was designed to allow Tahoe Donner members to manage membership information and perform key association tasks. Offerings in the member portal include:
• Pay your Annual Assessment • View payments • Submit covenants violations • Update member info like contact info and mailing addresses • Access association documents like board meeting minutes • View committee information • View board meeting documents and schedule
Emails have been sent to members with instructions on how to create an account with a unique member registration code.
Instructions were also mailed to members along with their 2022 Annual Assessment bill. If you do not have your unique member registration code, email info@tahoedonner.com for support.
To register for the portal, you need your unique member registration code, your last name as it appears on your Annual Assessment statement OR your property's street address number, and a valid email address. When creating a member portal profile, here are some helpful tips:
Navigate to tahoedonner.com/member-portal.
Enter your contact information as prompted and choose a username, then click "Continue."

Note: Your username can only contain letters, numbers and underscores. Your username can't be your email address.

Follow the on-screen instructions to begin your registration.
To learn more about the member portal, visit tahoedonner.com/eunify.
DOWNLOAD THE MOBILE APP
Access your member profile more easily from your tablet or smartphone with the new member portal mobile app.
1. You must first create your member portal account on a desktop or laptop computer.
2. Visit the Android app store or Apple app store from your mobile device and search for Community Link.
3. Install the Community Link app on your mobile device.
4. Log in using your member portal username and password.