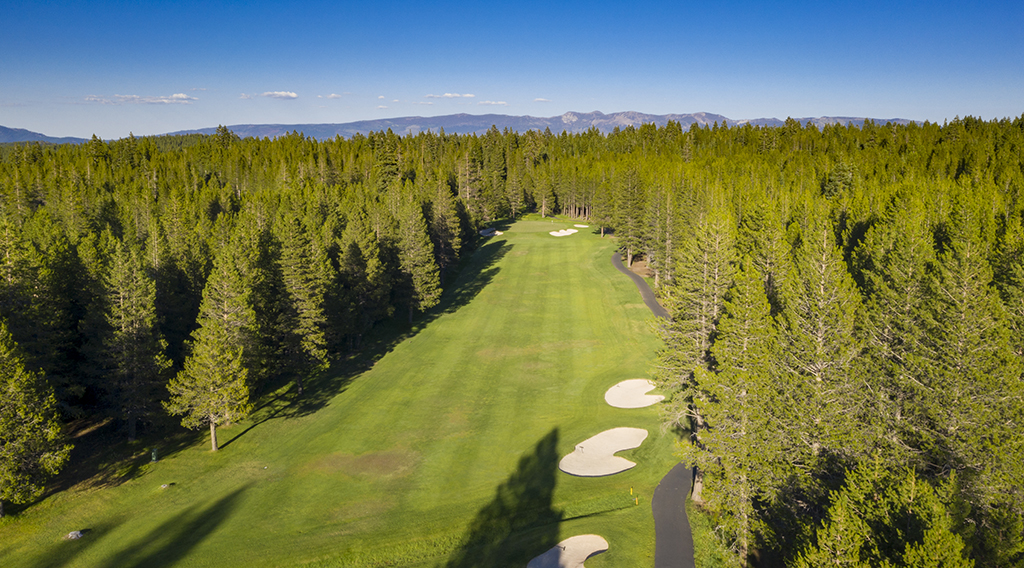 Golf Repair + Replacement Project 2020
Association News, Capital Projects, Golf, Member News


Apr 27

APRIL 27, 2021 UPDATE

We're excited to announce that Tahoe Donner Golf Course is scheduled to reopen on Friday, May 28, 2021, conditions permitting. Rediscover Tahoe's most recently renovated course. With over $2 million in course improvements in 2020, golfers of all skill levels can enjoy enhanced playability, an improved pace of play and one of the region's best alpine golf experiences. Project highlights include:
All new greens with Creeping Bentgrass
Expanded + redesigned tees, including forward tees
Better player shot selection through improved drainage and relocated cart paths
Wider and more playable fairways + more
The Driving Range is scheduled to open Friday, May 21, 2021 conditions permitting. Golf season passes are on sale now.
SOME OF THE HIGHLIGHTS FROM THE 2020 COURSE IMPROVEMENT PROJECT
New chipping and putting greens 

New stairway to the putting green

Left side of the fairway on hole #1 was remodeled with some tree removal + improved slope leveling with recycled soil and earth from the project

New greens on hole #5

What a view! Check out the new mounding on the left of hole #8 

A relocated cart path on hole #11 will allow for more playability; golfers will also enjoy new forward tee boxes

Wider tee box on hole #12 and a new staircase and retaining wall made with native rock

Enlarged tee boxes on hole #16 widened to the left

Tree removal on the right side of the hole #16 fairway and rough improvements

Project architect Cary Bickler testing out the new green on hole #4

---
MARCH 2021 UPDATE
The Golf Repair + Replacement Project is complete, and we are looking forward to reopening our much-anticipated greens on May 28, 2021 (conditions permitting). With new turf, relocated cart paths, tee expansion and more, we are excited to get golfers of all ages on Tahoe's highest-elevated and most recently renovated course.
Passes and play packs go on sale April 20.
---
DECEMBER 2020 UPDATE
Golf course construction via contract and in-house work is substantially complete, and we are looking forward to the opening of our newly renovated golf course in 2021.
This winter, please remember that sledding, walking and XC skiing is NOT PERMITTED on the Tahoe Donner Golf Course and will be considered trespassing. This is to protect the recent investment in the golf course repair and replacement project and to ensure the course is in great shape for the 2021 season. Please stay off the golf course. If you witness trespassing on the golf course, you can file a complaint here: http://bit.ly/3pTobjT
---
SEPTEMBER 2020 UPDATE
With construction now well underway, we ask that you enjoy this project from afar and stay off the course. As we look to the 2021 season, progress now will pay off for golfers of all skill levels, and improvements include:
Improved Turf + Playing Surfaces
Relocated Cart Paths
Increased Playability
Better Playability of Landing Areas due to Drainage Work
Tee Expansion + Forward Tees
Faster Pace of Play
Progress this summer has included:
July:
New sod on hole 10 fairway and hole 5 forward tee complex
New sod on greens at holes 3, 5, 6, 7, 8 and 12
Till and finish grade of greens performed on holes 4, 13, 14, 15, 16 and 17
New sod on holes 4, 13, 14, 15, 16 and 17
Initial work on hole 15 fairway, tee complexes on hole 16 and approach on hole 16
August:
Continued grade work on hole 15 fairway, hole 16 tee complexes and hole 16 approach
Demo and grading on hole 11 forward tee complexes, fairway and rough
Initial construction of rock and concrete retaining wall on hole 12 tee complex
New sod and work on holes 15 and 16
New nursery greens graded and sodded near tee complexes on holes 3 and 8
As of August, the sodding of all greens has been completed. We would like to thank our hardworking crews and staff for their determination this summer as they continue the course renovation. Completion of the project is expected in mid-October.
---
AUGUST 2020 UPDATE
The Tahoe Donner Golf Repair + Replacement Project is well underway. Tree removal has continued to allow space for further renovations and improve playability. At the moment, the biggest project at hand concerns the new greens, tee boxes and fairway improvements. Crews are carefully preparing the course for new sod that is arriving in phases. Approximately four greens are being completed at once with the associated fairway and tee box improvements happening concurrently. After the new sod has
been transplanted, it takes at least 10-12 weeks before the turf can sustain traffic.
Walking on the transplanted course grasses in this early stage is extremely harmful. High-contact activities like running, playing football or letting your dog roam cause great permanent damage that may result in an additional closure and association money to fix. Even if you do not see heavy equipment or crews on the site, please be aware that the golf course is closed to all users for any reason. lease educate others who live in your home, guests and renters to avoid being on the course at this time.
It is anticipated that the course will be closed for the entire season and ready for play in spring 2021. For those who are itching to get on the greens again, partnerships have been made with area golf courses to provide special discounts when you show your Tahoe Donner member ID. Tahoe Donner Driving Range is also open to practice your swing. See below for a few photos showcasing the recent repairs and replacements taking place. To learn more, visit tahoedonner.com/golf.
New green on hole #11

New green and blue tee boxes on hole #8

New mounds to the left of the 8th fairway

---
MAY 2020 UPDATE
Construction has begun! The golf course is currently an active construction zone. The use of heavy equipment, including that for tree removal, is ongoing and will be active over the majority of the course now through the end of summer. It is not safe for members, guests and public to be on the course. Please stay out.
The greens and fairway replacement is fragile. Being on the course at all, whether it be via foot traffic, dogs, strollers or sport activities, will damage the new work and cost TDA additional funds to fix. Help us protect this investment and keep expenses down.
The course is not open, even if you do not see construction on a particular fairway. Please do not play golf on the course this season. We are working on and fixing a large portion of the course, even if you do not happen to see equipment on it. Signage is being installed to help remind people also.
As a reminder, the golf course is private property and is never open for non-golf activities. It is not a park, and non-golf-related activities damage our greens and fairways. Please help us protect the course by using our other amenities and awesome trails for your hiking, walking, biking and other sport-related activities.
---
JANUARY 2020 UPDATE
Tahoe Donner members get special pricing when they book early at partner resorts. See early booking rates at Old Greenwood and Gray's Crossing here. DEAL EXPIRED FEBRUARY 2020.
---
DECEMBER 2019 UPDATE – MORE GREENS ARE GROWING!
---
OCTOBER 2019 UPDATE – THE GRASS IS GREENER!
Your greens grass is growing strong! Check out these photos of the greens that will be placed on the Tahoe Donner Golf Course in 2020.
---
YOU ASKED, WE LISTENED!
REPAIRING THE TAHOE DONNER GOLF COURSE IN 2020
After much member feedback and years of planning, Tahoe Donner is moving forward with the Tee and Fairway Repair Project and Greens Replacement Project scheduled to begin in 2020. Thanks to the members of the Golf Course Subcommittee for all their hard work in turning member feedback for an improved course into reality. We are excited about the direction of focus for the improved course which will result in enhanced playability, improved pace of play, an enriched mountain golf experience and more.
THE PLANNING COMMITTEE
In 2018, the Tahoe Donner General Plan Committee (GPC) received letters from the men's and women's golf clubs that outlined golf course needs and requested feasibility studies and implementation plans for an improved course. They recognized that the last major course improvements were made in 2006-08.
In response to the letters, the GPC formed a Golf Subcommittee and their first meeting took place in February of 2018, and they've been busy! Since their formation they have developed a scope of work, refined priorities based on a wetlands delineation study, provided scope to course designers for budget estimates, presented to the Tahoe Donner Board of Directors, analyzed costs and generated strategies.
THE NEED
The last major course improvements were made over 10 years ago, and while the general rule for the replacement of greens is 20 years, we have been able to utilize our greens for over 40 years. It's time for a reset.
Eight years ago, we recognized that the golf course fairways and other course components weren't accounted for in the Replacement Reserve Fund. Since then, we have saved and with a combined budget of over $2 million we are now able to address our golf course greens and other important course repairs to maintain our members' championship course quality.
THE ARCHITECT
We are honored to work with celebrated golf course architect Cary Bickler at Cary Bickler, Inc. Last year, Cary celebrated 50 years as a golf course architect. An expert in golf course restoration, Cary has overseen improvements for the Tahoe Donner Golf Course in the past as well as multiple courses up and down the California coast, including La Jolla Country Club and the Camp Pendleton Marine Memorial Golf Course.
REPAIR + REPLACEMENT HIGHLIGHTS 
Improved turf conditions and playing surfaces
Increased player shot selections
Expansion of forward tees
Better drainage
GET ON THE GREENS IN 2020
While we anticipate a course closure for the 2020 golf season, Tahoe Donner management is partnering with regional courses to offer discounted green fees and season passes to offer more value for your golf experience next summer. Deals include:
Gray's Crossing + Old Greenwood
Discount on greens fees – call to confirm exact deal.
See early booking rates for season passes [NOW EXPIRED]
Coyote Moon
Offering 10 packs for $900 to Tahoe Donner members.
Resort at Squaw Creek
Early bird pass pricing on season passes for the entire season for Tahoe Donner members and a daily rate of $50 per round (savings of up to $69 depending on time of day and season). Learn more
Nakoma Resort

Nakoma Resort invites Tahoe Donner members to bring their golf games to the Lost Sierra for the 2020 season and receive special round rates — and a complimentary adult beverage! Less than an hour from Tahoe Donner is Nakoma, home of the friendlier Dragon golf course. Enjoy a round of play then continue your Nakoma experience at Altitude, the resort's fantastic lifestyle center featuring heated pool, hot tub, climbing wall, Bistro + Bar and more!
Tahoe Donner Member Specials:
• $65 weekday single round of golf
• $75 weekend single round of golf
• Day pass to Altitude Recreation Center
• One complimentary wine or draft beer
• 10% discount for foursomes
Tahoe Donner membership card must be presented at check-in. Rates not applicable with tournament play. See complete details here.
Grizzly Ranch Golf Club 
Offering discounted season golf passes for $1,899 or day rates for $115 or $99 after 11AM.
Check back for more deals from other local courses as they come in. The driving range will be open for the entire 2020 season.
PROJECT SCOPE
Hole #1: Enlarge two forward tee boxes and import soil.
Hole #2: Expand and relocate the upper forward tee box and move soil.
Hole #4: Add contours that will add visual interest and challenge players. Raise the high point of the mound for improved balance. Enlarge two forward tee boxes.
Hole #5: Enlarge the green tee box.
Hole #8: Improve depth perception from the tee to the dogleg right fairway by reconfiguring mounding. This will also help disguise the cart path from view at the tee. Enlarge two forward tees.
Hole #10: Improve the drainage in the fairway landing area for improved playing conditions. Install sub drainage, import sand and sod fairway.
Hole #11: Eliminate cart path and reshape area resulting in a wider fairway, improved aesthetics and playability and transforming the hole into one of the most beautiful holes on the course.
Hole #12: Widen and enlarge the silver and green tees. Install block retaining wall and stairsteps. Cover with on-site native stone veneer.
Hole #15-A: Redesign first landing area and add mounds on the right side of the fairway. Re-grade to soften fairway tilt.
Hole #16: Widen the back tee. Install a concrete block retaining wall and stairsteps. Cover with on-site, native stone veneer. Improve golf cart traffic wear and tear, regrade the fairway subgrade and cap with sand. Expand green and blue tee boxes.
Learn more about the Golf Course Tee and Fairway Repair Improvement Project on the board documents page – September 21 Regular Board Meeting, Item 6.