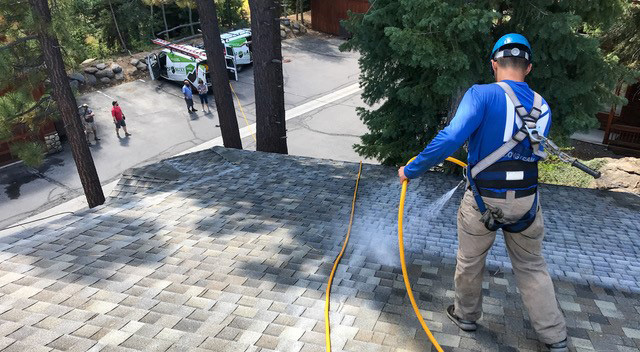 Meet Our Sponsor | Roof Maxx — Learn How to Save Your Roof Instead of Replacing It
Architectural Standards, Association News, Member News, Northwoods Clubhouse


Jun 10

By Roof Maxx | A Proud Sponsor of Tahoe Donner's Summer Concert on the Green

Brad Mills, owner of Mills Roofing, has been a roofing contractor in the Reno/Tahoe area for over 40 years. He's seen what repetitive freeze-thaw cycles can do to composition shingles in this area. The drying effect takes a toll on the lifespan of shingles, reducing the time before it's necessary to replace a roof.
When Brad first heard about a new product called Roof Maxx, he was skeptical. After researching, he found this new technology was legitimate and is revolutionizing the roofing industry, just as innovative as Uber or Airbnb.
Exactly how does Roof Maxx work? Day and night, the natural oils in your asphalt shingles cause them to expand and contract as they protect your home from the sun, wind, water and extreme temperatures. After a number of years, you may see the top coating flaking off and the shingles cracking, breaking, staining or curling, making your home more vulnerable to damage. That's where Roof Maxx comes in, adding five years of life to your roof with just one application, and up to 15 years with applications every five years.

Roof Maxx is a quick, natural and affordable alternative to a complicated, expensive and disruptive roof replacement. This soy-based spray-on roofing application costs just 20% of the cost of a new roof, saving you money and headaches.
FEATURES OF ROOF MAXX
Offers a deep enrichment to increase shingle pliability
Significantly improves adhesion
Improves shingle permeability by approximately 60%
Decreases the average hail depression by approximately 24%
Does not increase fire spread or flames
Roof Maxx was developed by Batelle Laboratories, the world's largest private research and development lab. This 100% natural, plant-based oil soaks into the asphalt layer of your shingles, making an old brittle roof look and act more like a new one. Ohio State University put Roof Maxx to the test and proved that it restores flexibility, passing the same test required for brand-new shingles.
People often wonder about the environmental issues associated with spraying a substance on their roof. Roof Maxx has met the EPA safer-choice standards for solvents. Plus, it is a Bio-Preferred product with the USDA; because it is a food-grade soybean solution, it is completely safe for people, pets, plants and the planet.
Additionally, applying Roof Maxx to just one single-family home can save an average of 3.8 tons of waste from landfills, especially considering that, every year, the roofing industry creates 13 million tons of waste that clog up landfills and can take up to 300 years to decompose.
Mills Roofing is proud to be the number one Roof Maxx dealer in the U.S. Their exclusive territory covers  Truckee to the South Shore of Lake Tahoe, Carson City, Minden, Gardnerville, Fernley, Fallon and all of Reno and Sparks.
It's this simple—Mills Roofing will assess the condition of your roof and make sure that it's a good candidate for Roof Maxx. If it is, they will tune it up and apply the product. The whole process usually just takes a couple of hours and adds five years of life to your roof—guaranteed.
Learn more about Mills Roofing and Roof Maxx at millsroofinginc.com and request a quote today.
The 10th annual Summer Concert on the Green takes place July 2-3, 2022, in Tahoe Donner. Tickets are on sale now.