Chipping Program
 THE CHIPPING PROGRAM ENDED OCTOBER 1st. SEE KEEPTRUCKEEGREEN.ORG FOR OTHER GREEN WASTE DISPOSAL OPTIONS.
---
Request Pickup
In an effort to make pickup route planning more efficient and to align with the Truckee Fire Protection District's process, Tahoe Donner will now require reservations for chipping piles to be removed, beginning June 1. All requests must be made through FireAside's Chipper Day portal for the 2024 season. To reserve a spot:
Enter your address in the search bar
Select "Tahoe Donner – Greenwaste Pickup"
Fill in contact details and additional information
---
New software from FireAside, including resident inspection reports sent via email and the Chipper Day portal, allows the Forestry Department to remain in communication with residents regarding defensible space. A Chipper Day button is conveniently included in resident inspection reports, but all homeowners can request chipping service anytime beginning June 1 through Oct. 1.
Although the Forestry Department will prioritize debris piles located in zones within the 2024 Inspection Cycle, efforts will be made to address all requests as quickly as possible. You will be notified once your pile has been removed. You will also be notified if your pile has been deemed ineligible for pickup. See below for details on eligible waste and proper storage of debris.
---
Some members have voiced concern over unsightly piles and potential fire danger on the roadside. We apologize for the unsightliness. Tahoe Donner and the Truckee Fire Protection District concur that biomass is safer in piles than it would be spread across yards. Piling material is beneficial because it is disconnected from other fuel sources and potential of fire spread is significantly decreased. Concerned homeowners may also negotiate with their defensible space contractor to remove the piles, or homeowners doing the work themselves can take their own piles to the Eastern Regional Transfer station. Homeowners do not have to wait for TD chipping crews to come. See keeptruckeegreen.org for several other free greenwaste disposal options.
---
Materials to be chipped must be:
Stacked with the cut or large ends facing the street
In front of your home, in a single pile and stacked on the edge of the road, not on access easements
Stack loosely, no higher than 4 feet

At least 3-feet away from snow poles, rocks, fire hydrants, bear boxes, utility poles, trees, landscaping, and other features that could limit access or be damaged by a large mechanical grapple

A

t least 15-feet of vertical overhead clearance if located under or near power/communication lines

Avoid stacking on slopes, rocks, and stumps
---
Eligible material:
Brush and tree limbs up to 8 inches in diameter, either green or recently dead
Minimum of 2 feet in length
Maximum 8 feet in length
Non-eligible material:
Old, dead, hard branches with no bark attached
Bark, pine needles, dirt and pine cones
Roots or root wads (tree stumps)
Scrap lumber
Lot clearing for construction
Garbage (trash)
Metal or wire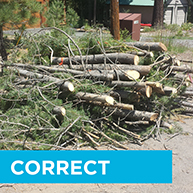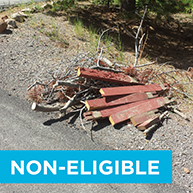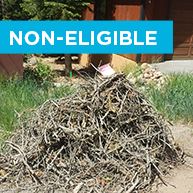 ---
Woodchips
For more information about woodchip use for landscaping with regard to fire and defensible space, click here.