Chipping Program
Chipping program is no longer available this season. It runs from June 1st to October 1st. Thank you to all who participated! Please do not put any new material curbside, as crews will no longer be disposing of it. 
---
The Tahoe Donner Forestry Department, together with external contractors, are working to get chipping material off of the streets as quickly as possible. Staffing shortages and a high volume of material from areas impacted by significant winter storm damage are contributing a higher demand for chipping services. Please be patient as work is done to clear chipping material throughout the summer and know the association is working to do this as quickly as possible.
Some members have voiced concern over unsightly piles and potential fire danger on the roadside. We apologize for the unsightliness. Tahoe Donner and the Truckee Fire Protection District concur that biomass is safer in piles than it would be spread across yards. Piling material is beneficial because it is disconnected from other fuel sources and potential of fire spread is significantly decreased. Concerned homeowners may also negotiate with their defensible space contractor to remove the piles, or homeowners doing the work themselves can take their own piles to the Eastern Regional Transfer station. Homeowners do not have to wait for TD chipping crews to come.
---
A chipping permit is NOT required. Just follow the stacking directions below and your material will be chipped. The chipping crew will be rotating through the association on a planned schedule of streets.
Materials to be chipped must be:
Stacked with the cut or large ends facing the street
In front of your home and stacked on the edge of the road, not on access easements
Stack loosely, no higher than 4 feet
Away from snow poles, fire hydrants, trees, landscaping or structures
---
Eligible material:
Brush and tree limbs up to 8 inches in diameter, either green or recently dead
Minimum of 2 feet in length
Maximum 8 feet in length
Non-eligible material:
Old, dead, hard branches with no bark attached
Bark, pine needles and pine cones
Roots or root wads (tree stumps)
Scrap lumber
Lot clearing for construction
Garbage (trash)
Metal or wire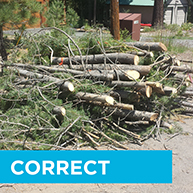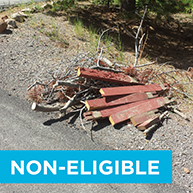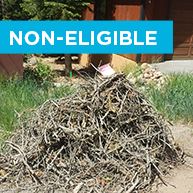 ---
Woodchips
For more information about woodchip use for landscaping with regard to fire and defensible space, click here.