Chipping Program
OCTOBER 1, 2021 WAS THE LAST DAY TO PLACE MATERIAL CURBSIDE TO BE CHIPPED UNDER THE CHIPPING PROGRAM. OCTOBER 8, 2021 IS THE LAST DAY FOR CHIPPING PROGRAM OPERATIONS.
---
A chipping permit is NOT required. Just follow the stacking directions below and your material will be chipped. The chipping crew will be rotating through the association on a planned schedule of streets.
Materials to be chipped must be:
Stacked with the cut or large ends facing the street.
In front of your home and stacked on the edge of the road, not on access easements.
Stack loosely, no higher than 4 feet.
Away from snow poles, fire hydrants,
trees, landscaping or structures.
---
Eligible material:
Brush and tree limbs up to 8 inches in diameter, either green or recently dead
Minimum of 24 inches in length
Maximum 8 feet in length
Non-eligible material:
Old, dead, hard branches with no bark attached
Bark, pine needles and pine cones
Roots or root wads (tree stumps)
Scrap lumber
Lot clearing for construction
Garbage (trash)
Metal or wire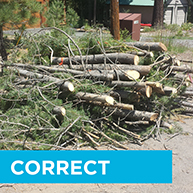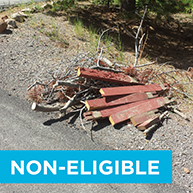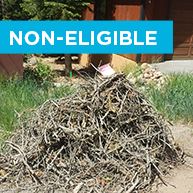 ---
Woodchips
For more information about woodchip use for landscaping with regard to fire and defensible space, click here.