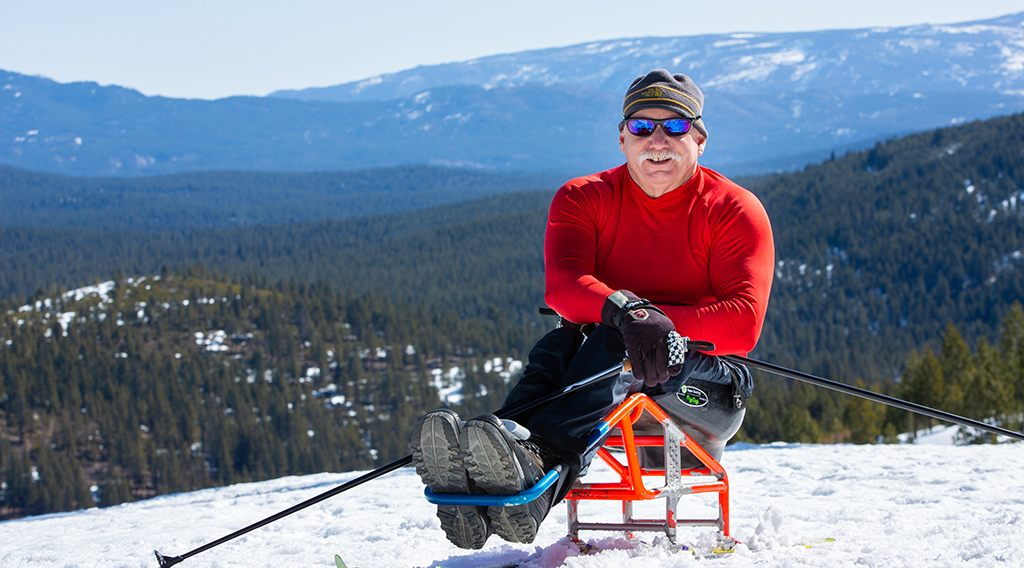 The Unstoppable Mark Wellman
Alder Creek Adventure Center, Alder Creek Cafe, Association News, Cross Country Ski Area, Featured, Member News


Nov 23

By Ali Dickson

Tahoe Donner and the Truckee/Tahoe area is known for its outdoor enthusiasts. Mountain bikers, backcountry skiers, hikers, climbers, kayakers – there is no lack of adventure spirit. Tucked along Snowpeak Way, Mark Wellman is no exception. Mark is an adventure athlete and motivational speaker who shot to fame after his 1989 climb of El Capitan in Yosemite National Park – which was no small feat after an accident in 1982 left him paralyzed from the waist down. Whether on the wall, on a sit-ski or on stage in front of an audience, Mark's passion for overcoming adversity and providing motivation has never been greater.
EARLY YEARS
Mark Wellman began his career as a mountaineer at the age of 12, ascending over 50 peaks in the Sierra Nevada and French Alps. An accident while descending the Seven Gables in the John Muir Wilderness in August of 1982 fractured his vertebrae and damaged his spinal cord. He was only 22 years old. While recovering, counselors and friends encouraged him to continue a life in the outdoors.
After studying Parks Management at West Valley College, Mark became a ranger in Yosemite National Park. In 1988, he ran into seasoned climber Mike Corbett, and the two got to talking about summiting the Shield route of El Capitan. That next year, with Mike at his side, Mark became the first paraplegic to ascend El Cap. He was 29 years old, and the climb took eight days.
Word quickly spread of the incredible feat. When the two men finished their ascent, they were met with eager fans and news anchors. With the media publicity, their adventures only grew. "After that climb," Mark remembers, "I was sitting in the Oval Office talking to President Bush endorsing the National Park Service with Mike Corbett, the superintendent of Yosemite and others. We talked about fishing and national parks. Later that year, ADA, the Americans with Disabilities Act, was created. That visit to the Oval Office – me in a wheelchair – maybe that sparked that imagination.
"After the infamous climb, the U.S. Disabled Ski Team Nordic Division contacted me – at the time I did a lot of alpine skiing – and they said 'You climbed El Cap and have a strong upper body. Maybe you want to try Nordic skiing.' So in the winter of 1990, I started Nordic skiing. I left Yosemite and moved to Truckee for ski racing and training. I competed in two Paralympics in France." Not only did he compete in the Paralympics, but in 1996, he ascended a 120-foot rope with the flaming torch and lit the cauldron at the Opening Ceremony
NO LIMITS
Today, Mark and his wife Carole Praxmarer run their business No Limits out of their house in Tahoe Donner, but their cause takes them across the country. "When I left the Park Service, we started No Limits. It's a speaking business and also adaptive climbing seminars. I have an adaptive climbing wall on a trailer that I store in Reno, and I go to disabled events and nonprofits where I set up the wall and adaptive equipment."
With Mark's climbing experience and motivational mindset, his adaptive climbing seminars open doors for disabled recreation enthusiasts. "You can do free climbing and a top-rope belay system, manual belaying and aid climbing. Mainly people in wheelchairs use aid climbing with an aid system and pullup system – like what I used on El Cap 32 years ago. Disabled people might not realize how they will climb, but with the desire, we can facilitate that with special harnessing systems."
At motivational speaking events, Mark is able to reach a variety of audiences. "Sometimes people that come in from short-term rentals or homes in the Tahoe area hire me to give a presentation. I've spoken to the Truckee Donner Land Trust and different organizations, and I fly all over the country doing the same thing. I also go to schools and sell adaptive climbing equipment.
"It can be life changing to some people. If you have an illness or an accident, you can join the club of being disabled – it can take anybody at any time. Fortunately, there are adaptations for somebody like me, who's been a wheelchair user since age 22. I've done a lot of paraplegic 'firsts' in life, like the climb up El Cap."
Additional "firsts" include winter sports, like a 50-mile sit-ski across the Sierra Nevada Mountain Range. Remembering another sit-ski crossing, "I did it when I was 55 with Jon Arnow. Jon and I in 2011 skied the Tioga Road, closed in the winter, east to west with bivvy gear. Two nights out, I carried about 22 pounds of gear in the spring. I've also done a celebrity golf challenge at Tahoe Donner to raise money for disabled sports."
SKIING + RECREATING AT TDXC
Mark and Carole have lived in Tahoe Donner for the past 29 years, and cross country skiing is one of the biggest highlights. "When I was a ranger in Yosemite, I basically just had Badger Pass, which was a tiny little alpine ski area. We had Nordic skiing on Tioga Road only groomed once a week. I really wanted to come to Truckee because of the skiing. I took three or four months off in the beginning and rented a place and skied up at the Tahoe Donner Nordic Center. Been here ever since."
When it comes to his favorite trails, don't expect Mark to choose the easygoing Pony Express or North Fork. "My favorite thing is going into Euer Valley and skiing around the valley. Save enough energy to get out, though – there's a big hill to get back up."
Additionally, Mark also rides his adaptive hand-cycle road bike on side streets like Wolfgang Road and Pinnacle Loop, which also tend to be very hilly. Kayaking out of the Beach Club Marina is a prime opportunity, and to take it up a notch, in December 2014, he and Jon Arnow circumnavigated the 72 miles of Lake Tahoe by kayak in two nights and three days.
When it comes to this ski season, Mark is ready to get back into the swing of things. "I'm looking forward to just having a great season and teaching adaptive sitdown skiing. The pandemic put a halt on being able to teach adaptive skiing there, and I look forward to having a great season. I teach sit-down skiing and check tickets. If you see me, come on up. I love working at Tahoe Donner. It's a great place to live and recreate. I appreciate all the good people that live in our community, and Carole and I love living here and running our business."
To learn more about Mark Wellman, visit his website at nolimitstahoe.com, which includes information on his autobiography and three films co-created with Eric Purlman – another Tahoe Donner Homeowner – featuring people with disabilities doing adventure sports. For additional information, email Mark at nolimits@ltol.com.