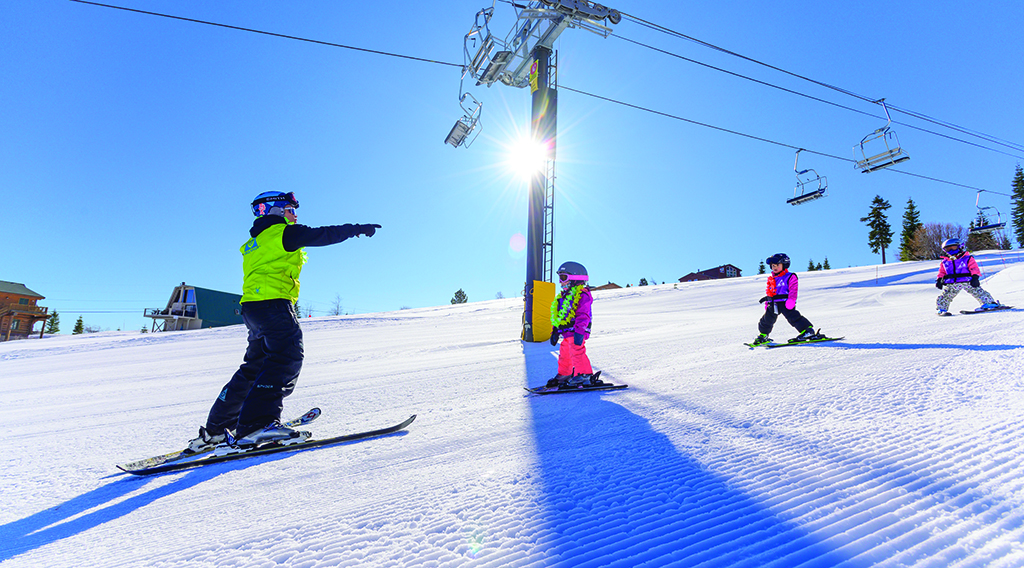 Tahoe Donner's Certifiably Awesome Ski Schools
Alder Creek Adventure Center, Alder Creek Cafe, Association News, Cross Country Ski Area, Downhill Ski Area, Member News


Jan 12

By Ali Dickson 

The Tahoe area is known far and wide for its winter wonderland. For those who are looking to slide into the sport of downhill or cross country skiing, look no further than Tahoe Donner's affordable and family-friendly ski areas! Not only will you have a safe and friendly place to find your stride, but many instructors hold teaching certifications, and all instructors teach nationally certified lessons through PSIA (the Professional Ski Instructors of America) or AASI (the American Association of Snowboard Instructors).

Ambitious skiers young and old can look forward to lessons catered to their specific needs while still gaining professional knowledge and skill. Whether at the Downhill Ski Resort or the Cross Country Ski Center, Tahoe's finest instructors around will have you and your family skiing like pros in no time!
---
DOWNHILL SKI RESORT 
The Tahoe Donner Downhill Ski Resort is known for its open bowls, friendly terrain, short lines and fantastic instructors. David Walker, downhill ski/snowboard school director, shares,
"The Downhill Ski Resort has around 100 instructors each year, and everyone implements PSIA techniques. All of our instructor trainers have their Level 2 or Level 3 certifications through either PSIA or AASI. We always encourage our instructors their first season to go for their Level 1 certification, which is a really good learning experience for them. They learn a lot just training for it alone."
Certification trainings begin for instructors right from the get-go. "Throughout our new-hire training, we instruct them on how to teach a professional beginner lesson. And as they go through the training for their Level 1, they start learning new skills to teach higher-level students and different student types. If you have somebody who only works with kids, when we start training them, we teach them how to deal with adults or seniors. And then obviously, the certified instructors are always continuing their training."
While everyone has the knowledge to navigate a wide variety of lessons, there are still areas where certain instructors shine. "We have some people that teach mainly older students instead of kids. Younger instructors usually teach the little ones, and older instructors usually teach adults and teens. Then there are people who are in specific pockets, like certain coaches that only teach
races and certain coaches that teach freestyle. There's a separate organization, USSA (United States Ski and Snowboard Association), that qualifies our race coaches."
Especially if you or your family is new to the sport of skiing, the Downhill Ski Resort offers top-notch education on some of the area's most friendly terrain. "What we always do is specialize in being the 'best place to begin.' That's our main focus. We've built that reputation, especially with the youngest kids, to be a safe space for 3-, 4-, 5- and 6-year-olds. We continue to have a constant flow of really high-level people in the ski industry who all bring their kids to learn to ski here.
---
CROSS COUNTRY SKI CENTER 
Voted the best cross country ski area in Tahoe for six years running by Sierra Sun readers and one of the top 10 areas in North America by USA Today, the Tahoe Donner Cross Country Ski Center holds both national prestige and small-town appeal. Andrea Brideau Miller, cross country ski school director, leads a ski school staff with one of the highest certification percentages in the country.
"I did the numbers late in the season last year, and we're at about 70% PSIA-certified instructors at TDXC. We have the largest ski school staff in the country, and we also probably have the largest number of higher-level instructors. We're not a small area. We're kind of like the Palisades Tahoe of the cross country world."
All hired instructors are offered a chance to become certified after becoming a member of PSIA. "We offer an in-house Level 1 training program. That happens ongoing through the season, and we have two Level 3/Western Division instructors that check all the boxes to help those who want to be certified by the end of the season. I think everyone values the education and professionalism that you learn when getting involved in the certification process. The people are awesome. And it's fun. Fun helps."

Even if an instructor decides to not pursue a certification, you can be sure they'll teach like a pro. "We use PSIA standards and models so that we all use the same basic technical information during lessons. Even if students move from instructor to instructor throughout the season – or seasons – their instructors will be speaking the same language. I strongly encourage that all of our instructors have a great base knowledge of the technical parts of teaching, but we also want their personalities to blossom and make the lesson their own so that it's not a cookie-cutter lesson from a robot. We want everyone involved in the lesson to have fun – that's super important. Safety's number one always, but having fun is a close second."
At the end of the day, it's hard to beat learning to ski at one of the best cross country destinations in the nation by a certified and excited instructor. "Nobody has anywhere near the number of instructors that we have or the size of our programs or number of programs. Other ski areas look to us as leaders in the industry and might say, 'Oh, you guys are doing that? We can do that, or we hope that someday we can do what you guys are doing.' There are instructors who are MDs, PhDs, JDs, PTs, acupuncturists, engineers, real estate developers – we have a very broad spectrum of overqualified individuals teaching. Our instructors are friendly and passionate; those are outstanding things, too. I'm proud of our instructors. They're just incredible people."
---
SKI + SNOWBOARD PROGRAMS 
Young and old, new and experienced can take the certified jump into skiing with fun and affordable ski lessons this season! Opportunities for both downhill and cross country skiing include:
• Group lessons are available for all ages (3 and up for downhill, 5 and up for XC) and abilities. All group lessons include full-day ski area access and rental equipment. Downhill group kids lesson packages start at $149 for members. Kids XC group lesson packages for ages 5-12 start at $70 for members while adult (age 13+) XC group lesson packages start at $87 for members.
• Private lessons are our most popular and productive lessons for individuals or small groups. The pace and activities of the class will be tailored to your specific needs. Downhill private lessons start at $149 for members, and XC lessons for members start at $95 for two people with just $20 per additional person.
• Programs and clinics for downhill skiing, snowboarding and XC skiing are available for young and old! To begin a lifelong sport, hone a familiar passion or take the next step in caring for your equipment, check out upcoming events on the web.
• TDXC offers a range of kids after-school programs and four-week-long weekday adult programs starting in January 2022.