Dinner with a Twist
Association News, Member News, The Lodge Restaurant & Pub


Sep 06
From our restaurant to your kitchen 
The staff at The Lodge Restaurant & Pub update the menu seasonally to offer diners the freshest and finest ingredients, along with innovative creations to satisfy every palate. While some dishes are new every season, others are returning favorites, like the popular Panko and Parmesan Crusted Chicken. This dish takes a simple chicken breast and elevates it to the next level, and now diners have the option to make it at home. "If you're tired of the same old chicken recipes, our Panko and Parmesan Crusted Chicken is a must try," says Chef Lew Orlady. "It's a relatively easy dish to make and your taste buds will thank you."
Panko and Parmesan Crusted Chicken Breast with Arugula, Fennel and Apple Slaw, and Lemon Aioli  (Serves 2)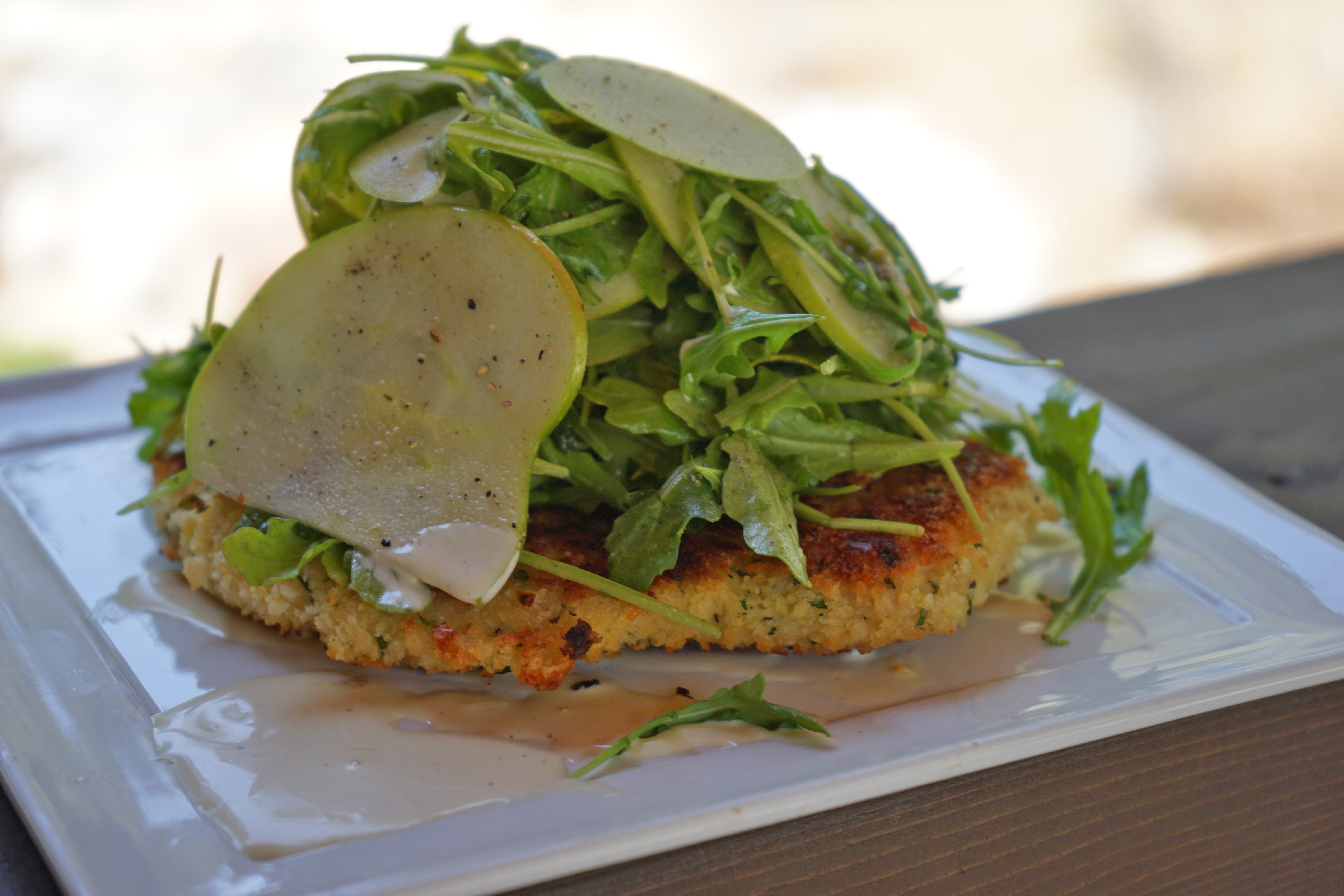 Standard Breading:
8 oz         Panko bread crumbs
1 tbsp      salt
2 tbsp     chopped parsley
3 tbsp     grated parmesan
2              large eggs, beaten
1 cup       all purpose flour seasoned pinch salt, cracked pepper
Method:
Mix the bread crumbs, salt, parsley and parmesan together in a bowl and place in a flat-bottom pan.
Beat the eggs in a bowl and set aside.
Place the spiced flour in a second bowl and set aside.
Chicken:
2 boneless skinless chicken breasts, tenderloin removed
Method:
Place breasts between two pieces of plastic wrap and lightly pound to approximately ¼ inch thick.
Dredge the pounded chicken breasts in the seasoned flour, shaking off excess.
Dip both sides of the floured chicken into the egg wash.
Press both sides of the chicken into the bread crumbs for an even coating.
Reserve on a plate for cooking.
Sherry Vinaigrette
3              medium shallots, sliced
2              cloves garlic, smashed
1 tbsp      olive oil
¾ cup     seasoned rice vinegar
½ cup     sherry vinegar
3 tbsp     lemon juice (fresh)
3 tbsp     honey
Method:
Sauté the garlic and shallots with the olive oil. Place in a blender.
Add the remaining ingredients to blender, blend slowly.
Add 1 cup pure olive oil. Season with salt and pepper. Stir; if it is not emulsified (refrigerate extra dressing up to six weeks).
Slaw:
2 oz        baby arugula
1              small fennel bulb (trimmed, cut in half, trim core)
1              Granny Smith apple (cut in half and cored)
1 oz        sherry vinaigrette
1              pinch of salt, fresh pepper
Method:
Using a mandolin or sharp knife, shave ¼ (or to taste) of the fennel bulb and ¼ (or to taste) of the apple into a medium-size bowl.
Add the baby arugula and toss with the sherry vinaigrette, salt and pepper.
Reserve.
Creamy Lemon Aioli
½ cup     mayonnaise
2 tbsp     water
1½ tbsp   fresh squeezed lemon
1 tbsp      garlic puree
1 tsp        Dijon mustard
1              zest of 1 lemon
Method: 
Whisk together ingredients.
Reserve.
Cooking and Plating:
Drizzle 1 oz of the lemon aioli onto plates with spoon or bottle.
Heat 2 oz of clarified butter or canola oil on medium.
Lower heat and add the breaded chicken. Cook until browned on both sides, turning once (approx 3 min/side).
Place chicken on dressed dinner plates.
Top with a generous handful of slaw.