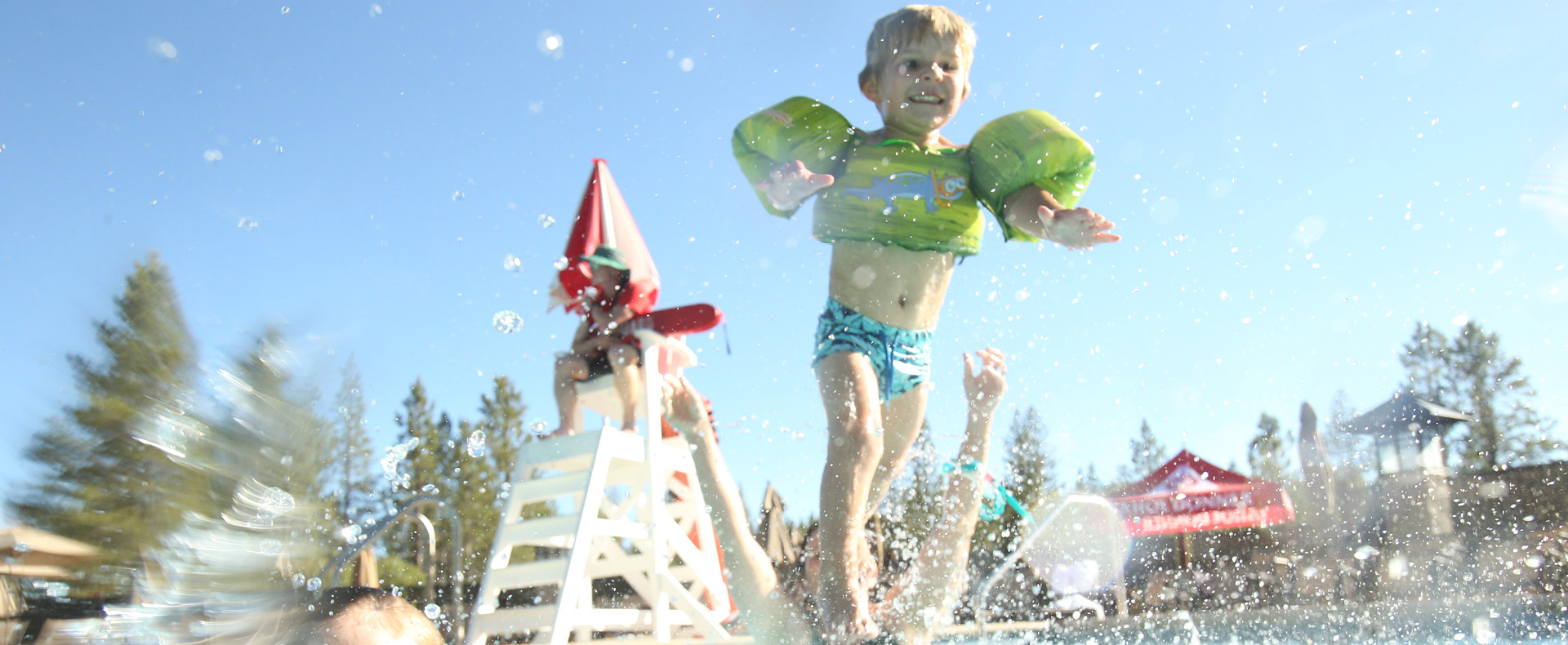 Memorial Day Weekend Activity Guide
Alder Creek Adventure Center, Aquatics, Association News, Beach Club Marina, Bikeworks, Golf, Pizza on the Hill, Tennis, The Lodge Restaurant & Pub, Trout Creek Recreation Center


May 25

Summer in Tahoe Donner is almost here, and now is the time to take advantage of the sunshine, blue skies and longer days! Check out all of the fun activities happening in your neighborhood that will make this Memorial Day Weekend one you won't want to miss.

GET YOUR BIKES TUNED UP + JOIN US FOR A BIKE SALE!
Stop by for bike repairs, discount bike sales and more! Please stay off any muddy trails at this time to avoid trail damage and erosion. Please note that Bikeworks will only be operating for bike repairs and road bike rentals until the trail system becomes accessible.
Learn More
HOURS | OPENING MAY 26
DAILY | 9AM-6PM
(conditions permitting)
GAME, SET, MATCH!
Good news for tennis enthusiasts! The Tennis Center is open for the summer season. As the weather warms up and the days get longer, the Tennis Center is the perfect place to spend the day with friends and family.
Learn More
HOURS | NOW OPEN!
DAILY | 7:30AM-8PM
(conditions permitting)
---

Family adventure awaits, and what could be better than swimming at a pool or lounging in the sand? Come soak up the sun at the Beach Club Marina or at the Trout Creek Rec Center Pools.
SEAS THE DAY AT THE BEACH CLUB MARINA
Dive into fun at Beach Club Marina on Donner Lake, the perfect place to spend a sunny day. Check out the Marina Grill for a tasty snack. Starting May 26, stop by for the stand-up paddleboard sale!
Note: due to low water levels at Donner Lake, the boat launch and rentals will not be available this holiday weekend.
Learn More
HOURS | OPENING MAY 26
MARINA | DAILY: 7AM-9PM
GRILL | DAILY: 11AM-6PM
Subject to change. Limited menu
MAKE A SPLASH THIS SUMMER
Get ready to slather the sunscreen and make a splash this weekend at Trout Creek Rec Center! The Recreation Pool is one of Tahoe Donner's most popular summer amenities featuring a kiddie pool, certified lifeguards and three spas to warm up and relax.
Bonus: basic fitness classes are now included with a Rec Center Daily Access Fee or paid Recreation Fee!
Learn More
HOURS | OPENING MAY 27
DAILY | 10:15AM-7PM
(conditions permitting)
---

With all the activities available in Tahoe Donner, you'll need to fuel your adventure! Stop by one of our restaurants for your next great meal.
The Lodge Restaurant & Pub
Lunch | May 27 + 28: 11:30AM-3PM
Dinner | May 24-28: 5-8:30PM
(Bar opens at 4:30PM)
Happy Hour | May 24 + 25: 4:30-6PM
Closed May 29 for Memorial Day
Pizza on the Hill
Fri-Mon | 4-8PM
Happy Hour | Fri-Mon: 4-5PM
LAST CHANCE TO PARTICIPATE IN BRING BACK THE MAC!
Join us for the final Bring Back the Mac at The Lodge Restaurant & Pub! This extra cheesy, month-long event introduces a new take on classic mac and cheese each week for diners to enjoy. The winning style will be added to the summer menu. Remember to vote for your favorite.
Learn More
Final Week: Garlic Shrimp
Where: The Lodge Restaurant & Pub
JOIN TRIVIA EVERY MONDAY NIGHT
Put your trivia skills to the test and win awesome prizes during this wildly fun game night while you enjoy fresh pizza, weekly pizza and pasta specials, local draft beer and more!
Menu favorites include the Margherita pizza paired with fried cheese curds, a Caesar salad and a Truckee IPA.
Learn More
When: Mondays | 6-7PM
Where: Pizza on the Hill
---

Want to start your summer off right? Check out all the fun events/activities around your neighborhood!
MEMORIAL DAY WEEKEND DALE AT THE GOLF PRO SHOP
Join us at the Golf Pro Shop for a huge Memorial Day Weekend sale! Save big on all your favorite brands from the Tahoe Donner Golf Shop and get outfitted for the new season with prices up to 60% off on select brands.
Bonus: if you spend $200 or more, you'll be entered into a raffle to win great golf gear and other prizes!
Learn More
When: May 26-29 | 10AM-5PM
Where: Golf Pro Shop
TENNIS/PICKLEBALL SEASON OPENING EVENT
Kick off the season with an exciting afternoon of tennis and pickleball, followed by a potluck barbecue and social gathering.
Learn More
When: May 27
Round Robin: 2-5PM
BBQ/Potluck: 5PM
Cost: Tennis/Pickle Club Free, Member $12, Guest $20
Where: Tennis Center