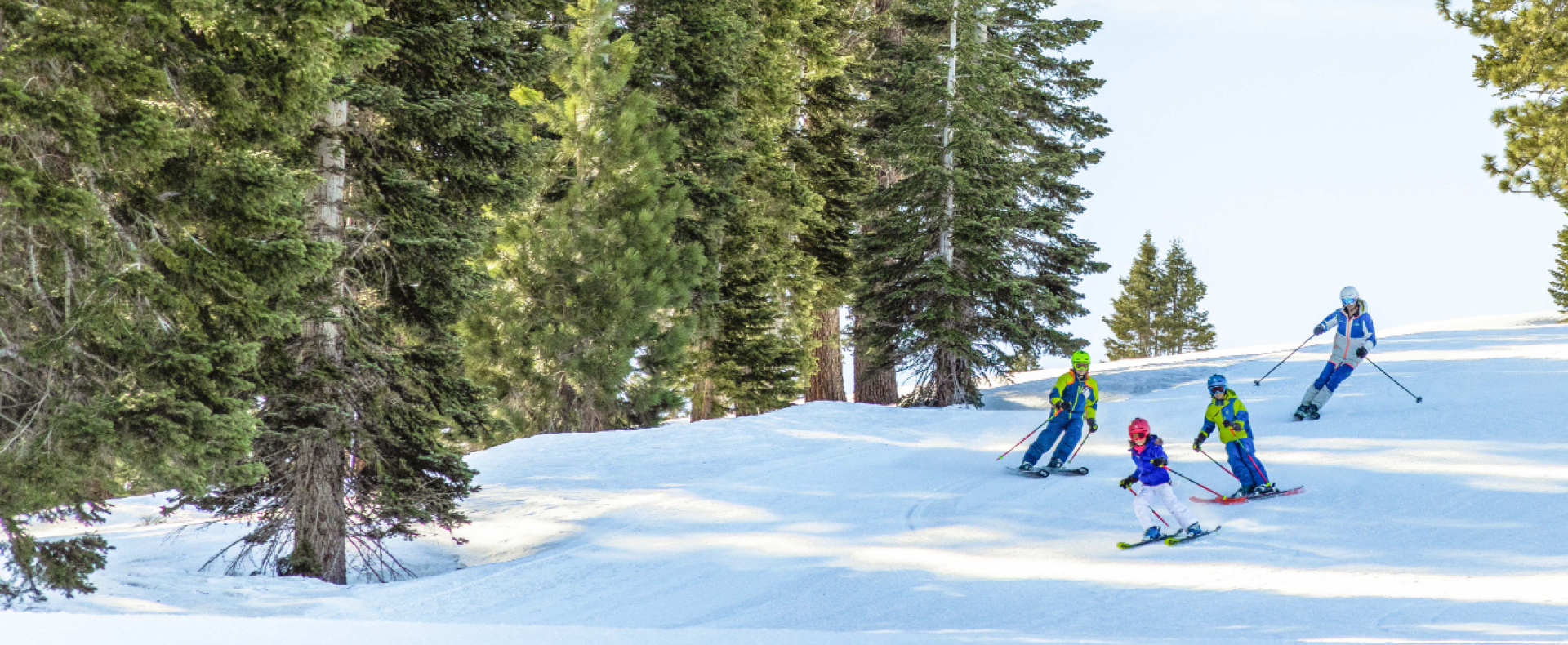 Ski Skate Week Activity Guide | The Mountain is Calling
Alder Creek Adventure Center, Alder Creek Cafe, Association News, Cross Country Ski Area, Downhill Ski Area, Featured, Pizza on the Hill, The Lodge Restaurant & Pub, Trout Creek Recreation Center


Feb 15

Ski Skate week is fast approaching, so now is the time to plan your perfect winter getaway at Tahoe Donner! With everything from a fireworks show, to cross country ski lessons, to fun fitness classes and free transportation, there is something for everyone who chooses to play in the mountains this holiday week.

Discover fun and friendly terrain for the whole family to enjoy at the Downhill Ski Resort. Be sure to pre-purchase lessons, rentals and tickets online, as the ski area will sell out over the holiday week.
HOURS:
Tickets + Rentals | 8AM-4PM
Lifts | 9AM-4PM
Visit Website
FIREWORKS SHOW AT THE DOWNHILL SKI RESORT
Join the Downhill Ski Resort for incredible live music and a dazzling display of fireworks on Feb. 18 to kick off the President's Day holiday weekend and Ski Skate Week! Click here for a complete list of exciting and family-friendly events at the Downhill Ski Resort.
Learn More
Music: 4:30-7:30PM
Fireworks: 7PM
DOWNHILL SKI GRILL + BAR
After a great day on the mountain, be sure to stop in for some delicious food to refuel. Enjoy après–ski on the beautiful sun deck while enjoying a warm soft pretzel, full-service bar and cozy fire pits.
Pro tip: Grab a quick and delicious breakfast in the morning to start your day right!
Learn More 
HOURS
Grill: 8-10:30AM + 11AM-3PM
Bar: 11AM-5PM
---

The trails are in great shape at TDXC with 70+ km of varied terrain for all interests and skill levels. Be sure to pre-purchase lessons, rentals and tickets online before the holiday week sells out.
HOURS:
Trails | 8:30AM-5PM
Tickets and Rentals | 8:30AM-5PM
Visit Website
XC CLINICS + LESSON ALL WEEK LONG
Have you signed up for a specialized clinic at TDXC? Consider the hands-on wax clinics, the adult biathlon clinics and the celebrity clinics to build skills and confidence on the trails.
Lessons are also available daily for all ages. Packages start at just $79 for members which include a trail pass, lesson and full-day gear rental!
Learn More
HUNGRY AFTER SKIING? TRY A NEW EDI-BŌL EVERY THURSDAY
Bring the whole family to the Alder Creek Cafe on Thursday evenings for Edi-Bōl flavors – this week, try the comforting and savory Beef Ramen Bowl. Familiar favorites will also be available, like burgers, quesadillas and chicken tenders, and the Trailside Bar will also be open for drinks.
Learn More
When: Feb. 23 | 5-8PM
Where: Alder Creek Cafe
---

Join us for a day of tubing and sledding! Enjoy endless activities for kids of all ages and the kid at heart. Entry ticket for 75-minute time slots. Be sure to pre-purchase tickets online, as Snowplay will likely sell out over the holiday week.
HOURS:
Dec. 24-Jan. 7 | 9AM-4:30PM
Dec. 25 | 12:15-4PM
Visit Website
TD EATS AT SNOWPLAY
After playing out on the snow, treat yourself to fresh donut bites, hot cocoa, coffee and more made right at the TD Eats food trailer! Located at Snowplay, donuts come in a variety of different flavors including regular, s'mores and sprinkles.
Learn More
HOURS:
Saturday + Sunday | 10AM-3PM
FITNESS CLASSES AT TROUT CREEK REC CENTER
If you are looking for indoor fun and a great workout, join one of the fitness classes at the Trout Creek Rec Center across the parking lot from Snowplay! Check out the complete list of classes available – like fiery Zumba and zen yoga – on the website.
Learn More
REC CENTER HOURS:
6AM-9PM
---

The Lodge Restaurant & Pub
Wednesday-Sunday | 4:30-8:30PM
Dinner service begins at 5PM
Pizza on the Hill
Friday-Tuesday | 4-8PM
Alder Creek Cafe
Daily | 8:30AM-4PM
Edi-Bōl Thursday | 5-8PM
Downhill Ski Bar + Grill
Daily | 8-10:30AM + 11AM-5PM
WINTER MUSIC SERIES AT PIZZA ON THE HILL
Enjoy a seven-week live music series brought to you by Tahoe Donner! Every other Thursday at Alder Creek Cafe and every other Saturday at Pizza on the Hill, indulge in a variety of fun and free musical performances while you enjoy delicious dining options.
Learn More
Fourth Event: Feb. 25 | 5-7PM
Artist: Jonathan Hennion
Location: Pizza on the Hill
TRIVIA TUESDAY EVERY TUESDAY!
Trivia is back at Pizza on the Hill! Put your trivia skills to the test and win awesome prizes during this wildly fun game night while you enjoy fresh pizza, weekly pizza and pasta specials, local draft beer and more! Menu favorites include the Margherita Pizza paired with fried cheese curds, a Caesar salad and a Truckee-brewed IPA.
Learn More
---

TART'S FREE MICROTRANSIT WINTER SHUTTLES
TART's Microtransit Pilot Program is back this winter; this time, they've got ski racks! Enjoy free shuttle service throughout the Truckee area – including both TD ski areas – from 8AM-10PM daily. Simply download the TART Connect app to request a ride right from your front door.
Learn More
FREE TDXC SHUTTLE FROM THE LODGE RESTAURANT & PUB
Take advantage of the free shuttle service from The Lodge Restaurant & Pub to the Alder Creek Adventure Center! Just a five-minute ride, the courtesy shuttle runs every 30 minutes from 10AM. Be sure to check the web in advance to make sure the shuttle will be running!
Learn More