Trout Creek Recreation Center Renovation
WHAT IS THE PROJECT? 
A member-led General Plan Committee (GPC) taskforce has worked since 2016 gathering member feedback and diligently planning to meet the needs of the community. The soft re-opening of the Trout Creek Recreation Center occurred on Saturday, February 8, including the new cardio room and weight room (Phase 2) located at the East end of the building.
---
WHY THIS PROJECT? 
Adapt the facility to changing member needs
Safety, comfort and member experience
Increase usable space
---
WHAT ARE THE IMPACTS? 
PHASE 1 – Pool Side: There will only be minor workout impacts, including temporary entrance at the west side of building.
PHASE 2 – Gym Side: Equipment and classes will be relocated to meet the fitness needs of as many members as possible.
From mid-October through January, fitness class impact will include a reduction in class frequency and variety. In order to best accommodate our members, some classes will be relocated to either Alder Creek Adventure Center or Northwoods Clubhouse.
: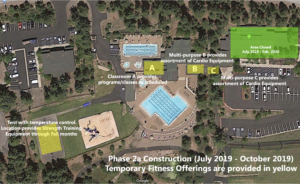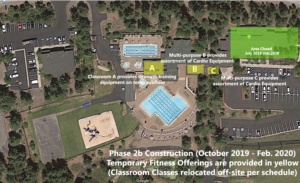 ---
WHAT IS THE TIMELINE? 
In an attempt to complete this project as quickly as possible, construction crews will be working seven days per week from 7AM-7PM.
Construction began on January 7, 2019, on the two-phased renovation of the Trout Creek Recreation Center.
PHASE 1 – Pool Side: Starts Jan. 2019 and lasts approximately six months.
PHASE 2 – Gym Side: Starts mid-2019 and lasts approximately eight months.

PHASE 2a: July – mid-October 2019

Fitness Classes: Unaffected
Weight + Cardio Rooms: All the equipment from the existing weight and cardio rooms will be distributed to multipurpose rooms B and C (see map below) and in a heated/ventilated tent that has been erected on the basketball court.

Tent information:

Heated (when needed) and well-ventilated
3,200 square feet
Powered by generator for lighting and minor equipment needs
Includes asphalt walkway

PHASE 2b: October – January 2020
---
WHAT IS THE COST?
$2.4 million estimated cost, which includes all hard and soft costs associated with this capital improvement.
---
HOW DO I PROVIDE FEEDBACK?
---
DOCUMENTS